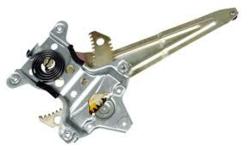 The cost of replacing an entire window assembly can be an expensive repair unless a source for discount pricing can be found.
Orlando, Florida (PRWEB) June 14, 2013
Paying retail prices for replacement auto parts can increase installation costs. One company online is now helping to provide a solution to vehicle owners searching for better discounts. The AutoProsUSA.com company connects owners of vehicles with discount auto parts online and has now added introductory low pricing for front door window regulator parts at http://autoprosusa.com/front-door-window-regulator-parts.
These essential parts for controlling the up and down movement for windows inside import and domestic vehicles are part of recent company markdowns. The total price savings and parts details can be found visiting the company website.
Automobile windows receive control from manual or automatic processes. While these parts are shielded from view, deterioration from weather conditions or component failure could cause window opening and closing issues. The cost of replacing an entire window assembly can be an expensive repair unless a source for discount pricing can be found.
Part of the additions to the Auto Pros USA company were made to provide the resources unable to be found in some parts of the country. New supplier agreements have been reached to make the new markdown prices possible for owners of vehicles.
"The cost of a complete window replacement can be thousands of dollars," a source from the AutoProsUSA.com company included. Automobile insurance policies provide comprehensive coverage for vehicle owners who enable this protection for vehicles. These policies vary from driver to driver and some types of repairs are not covered in policy declarations.
"We source good condition parts from leading suppliers to ensure an inexpensive replacement," the source added. The pricing applied to the company inventory is one effort made to discount some of the most common replacement parts for owners of vehicles.
Along with the inclusion of window regulators online, this company has acquired the complete window assemblies for cars, trucks and sport utility vehicles. Regulator replacements can require the actual unit as well as essential working parts to complete an installation. The company inventory now includes cables, regulator tape, spline gears and other parts that are designed to make each installation faster and easier for vehicle owners performing DIY repairs. These parts are now under the same price reduction as each complete assembly.
To go with the window parts and assemblies, side mirror replacement parts can be found when searching the company database. These parts were added recently for all vehicle types to ensure that each window unit and mirror combination are easier for buyers to find. These parts can be found on this page http://autoprosusa.com/side-view-mirror-replacement-parts.
About AutoProsUSA.com
The AutoProsUSA.com company created its superstore for used auto parts online. Customers representing all 50 states in the USA make use of the inventory listed for sale daily. Trusted partnerships with expert automotive supply companies help to keep inventory accurate and prices to a minimum. The complete range of vintage and late model parts that are produced can be searched through the online inventory presented to parts buyers. The AutoProsUSA.com company makes additions to its website with streaming videos, detail pages and regular markdowns to offer better ways buyers can become informed about parts information before making a purchase decision online.