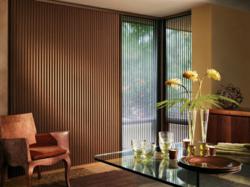 Saving energy is a beautiful thing! Customers can save energy--and help the world--and do it inexpensively for a limited time
Burlingame, CA (PRWEB) March 03, 2012
Rebarts Interiors, a Peninsula window treatment company that offers Hunter Douglas styles throughout the San Francisco Peninsula area, announces a "Save Energy in Style" sale from now through March 31. During the sale, customers can save on stylish window fashions that help insulate the home with rebates, from $20 to $50 per window, on select products. Rebarts Interiors also offers free estimates and free installations, plus 20-percent off all Hunter Douglas Window Fashions.
"Saving energy is a beautiful thing! Customers can save energy--and help the world--and do it inexpensively for a limited time," Becky San Diego of Rebarts Interiors said.
Energy efficient windows can insulate against the cold. A bare, low-e double-glazed window has an R-Value, a measure of a product's ability to resist heat flow, of about 3.5. Add a properly installed Duette Architella 1.25" honeycomb shade with Panache opaque fabric and the R-Value increases to 7.86, more than doubling the energy efficiency and reducing heat loss by more than 50 percent.
The solar heat gain of a bare, double-glazed window is 0.76, which means 76 percent of solar heat is transmitted through it. A Duette Architella 1.25" shade with Elan opaque fabric will reduce the solar heat gain coefficient to 0.15--only 15 percent of the solar heat transmitted. UV exposure is not only harmful to skin, but it can also damage furnishings, floors and fine art. Most Hunter Douglas products have fabric options that filter out 99 percent of these harmful rays in the closed position. Many Hunter Douglas window fashions, including Silhouette window shadings and Luminette Privacy Sheers, filter out as much as 86 percent of harmful UV rays in the open-vane position.
In the colder months, as much as 40 percent of the heat that escapes a home flows through the windows. During the summer, heat from the sun's rays coming through the windows can make it harder to keep a home cool. Energy-efficient window treatments can help decrease heat loss and heat gain, thereby reducing heating and cooling costs. Some treatments are more energy efficient than others, so checking a product's R-Value and Solar Heat Gain Coefficient rating is a must.
For more information about the sale or any of Rebarts Interiors' products or services, call 650-375-2300, view the window treatment specialist on the web at http://www.rebartspeninsula.net or visit 247 California Drive in Burlingame.
About Rebarts Interiors
The Peninsula window shutters company, Rebarts Interiors has more than 75 years of combined experience creating custom window coverings for commercial and residential clients throughout the western United States and as far abroad as the Orient. In addition to in-house design consultants, the company works with an extensive network of designers, decorators, architects, contractors, developers and realtors.