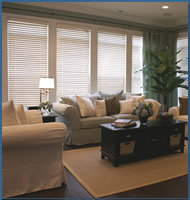 One size does not necessarily fit all when it comes to determining the right product for your windows
Gilbert, AZ (Vocus) December 6, 2009
Faux wood blinds are an excellent alternative to real wood blinds for several reasons. Resistance to warping in extreme climates is one of those reasons. As the harshest winter months approach, Select Blinds announces an offering of custom Faux Wood Blinds that provide coordination of the same colors and finishes in multiple sizes.
"One size does not necessarily fit all when it comes to determining the right product for your windows," states SelectBlinds founder, Rick Steele. "2" slats are the most common choice in horizontal blinds, but there are definitely situations where a 2 1/2" blind will provide a more finished and enriching look. And if you have a sliding glass door in the same room, the 3 1/2" vertical blinds now come in matching colors to help tie the whole room together. The 3 faux wood blinds, including the 2" and 2 1/2" horizontal blinds, and the 3 1/2" vertical blind, are all custom made, and now available exclusively from select blinds.
The SelectBlinds Premium Faux Wood Blinds are now available configured as a popular 2" horizontal blind, and secondly as an enriching 2 1/2" horizontal blind. Both offer the same 8 colors and finishes, and both have an industry leading 500 UV rating, meaning that these faux wood blinds resist fading and yellowing better than any other faux wood blind on the market. "The 8 colors include both a smooth finish and an embossed finish", notes Mr. Steele, "making these horizontal blinds an attractive solution for any window covering need."
The four white colors, consisting of two in a smooth finish, and two in an embossed finish, can be matched with the 3 1/2" Designer Faux Wood Vertical Blinds, rounding out the whole room solution. For those looking for a solution consisting of stains rather than whites, the SelectBlinds 2" Designer Faux Wood Blinds stains are a perfect match with the stains available in the 3 1/2" Designer Faux Wood Vertical Blinds.
If matching colors in multiple sizes is not a priority, SelectBlinds offers a variety of additional Faux Wood solutions. Many of the color choices available are designed to mimic the look of natural wood while retaining the benefits of choosing faux wood. This allows you do have the look and warmth of real wood throughout your whole house without breaking the bank.
Faux wood blinds, generally speaking, are a less expensive alternative than real wood blinds, which is a pretty good additional benefit beyond the ability to withstand extreme climates. And Select Blinds has a complete line up of value priced faux wood blinds. Providing the right solution to any window covering need, SelectBlinds even offers a more contemporary look in a horizontal faux wood blind with 2" Select Faux Wood Blind.
SelectBlinds is providing free Express Production on a variety of Faux Wood products as an introductory offering of the latest faux wood fashions.
###