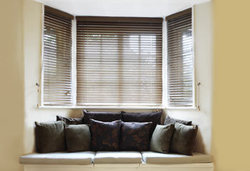 With the introduction of our 2
Gilbert, AZ (Vocus) February 19, 2010
Select Blinds announces the introduction of its latest Express Window Blind. The Express Basswood horizontal window blind is offered with 2" slats, and made from 100% basswood. Kiln dried to ensure the same quality standards as its option filled counterparts, this basswood window blind is available in 2 white and 2 stain colors.
"Basswood window blinds have a certain look and feel", states Select Blinds Merchandiser, Rosa Hoverson. "With the introduction of our 2" Express Basswood Blinds, that look and feel will not have to be compromised." Ms. Hoverson explains, "Because these horizontal basswood window blinds are option free, and are offered in a standard lift cord right side, and tilt cord left side, we are able to value price these in such a way that they eliminate the need for many consumers to have to settle for a faux wood window blind"
The Select Blinds 2" Express Basswood blinds are available now, and the 4 colors offered were chosen based on the overall popularity of basswood horizontal window blinds. Pure white and vivid white are the 2 white paint choices, and the designer favorites, Cherry, and Golden Oak, are the stain offerings.
"We are pleased to offer 2 day express production on these beautiful and enriching window blinds", says Ms. Hoverson. "Each and every one of the 100% Basswood blinds are custom cut to the exacting measurements provided by our customer, and come standard with a sleek and contemporary 3 inch crown valance." Ms. Hoverson, clearly excited about this basswood blind's introduction, continues, "No corners are cut with this wood blind. We use a tilt cord, rather than a tilt wand, which provides a tighter closure of the 100% basswood slats, translating into greater light control."
"This 2 inch Express Basswood Blind fills the very minor gap that we had in our wood blind category", concludes Rosa. "We now have complete confidence in saying that our wood blind assortment will satisfy every design, function, and décor enhancing need that one could imagine."
About Select Shops, owner of Select Blinds:
Headquartered in Gilbert, AZ, Select Shops owns the leading online destinations for ready-to-install and custom-made home fashions, including SelectBlinds.com, SelectRugs.com, SelectFans.com and SelectBedding.com. Select Blinds is focused on providing a tremendous variety of blinds, shades and other windows treatments to its customers. All of Select Shops Web sites offer competitive pricing, all of its products. For more information, please visit http://www.selectblinds.com.
###