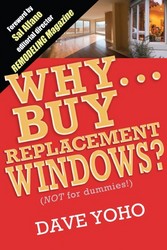 Fairfax, VA (PRWEB) April 14, 2009
Dave Yoho Associates (http://www.DaveYoho.com), in conjunction with a major publisher, has established a separate division for writing and marketing free e-books. The first of these is entitled "Why... Buy Replacement Windows?".
This free e-book is directed at the residential homeowners market and is meant to inform consumers about the energy and cost benefits regarding quality replacement windows. The book chronicles the history of the replacement window and how its many components and options are made available to effectively combat wasted energy and perpetual maintenance. A special section of the complete book will deal with how to select a window replacement contractor.
The writers have accumulated abundant information from AAMA, The Window & Door Manufacturers Association, Energy Star, National Fenestration Council, the Department of Energy and similar sources. The publishers have secured a prominent industry authority as its author and a well known industry editor to write the introduction.
A lead generation program has been developed around the e-book that is made available to selected retailers in the home improvement industry. The goal is to encourage homeowners to buy replacement windows now, to weigh the current economic conditions against the old automotive parts commercial: "Pay me now, or pay me later". Each homeowner acquiring the e-book will provide their name, phone number, email address and zip code which will become a lead for the home improvement company.
Visit http://www.WindowHelpBook.com and download a free copy to see how the process works.
Additional books will follow: The New Art of Bath Remodeling - Is Siding the Answer for Your Home? - Is there a Sunroom in Your Future? - The New Art of Kitchen Remodeling.
For details on this revolutionary and inexpensive lead generation program please call (703) 591-2490 and ask for Brad Yoho or Brian Nelson.
###