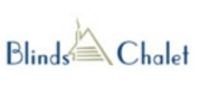 as well as provide some energy efficiency.
Phoenix, AZ (Vocus) September 8, 2009
The importance of sleep cannot be underestimated. A good night's sleep improves children's attention span, receptiveness and ability to learn. In fact, children with higher IQs in every age group studied slept longer, reports WebMD's Good, Sound Sleep for Your Child.
"Blinds can help improve sleep quality in a child's room, and any bedroom for that matter," says Chris Stanley of Blinds Chalet.
According to Sleep for Kids, a service of the National Sleep Foundation, there are a few practices that help children achieve a healthy sleep: maintaining a sleep schedule, creating a consistent and enjoyable bedtime routine and establishing a sleep friendly environment.
Maintaining a sleep schedule: Kids should be put to bed at the same time every night. Each child is different, however children need a certain amount of sleep:

3-6 year olds should sleep 10 ¾ - 12 hours per night
7-12 year olds need 10 - 11 hours of sleep
12-18 year olds require 8 ¼ - 9 ½ hours for an optimal night's sleep.
o Source - WebMD
Creating a consistent and enjoyable bedtime routine: Part of a routine can include tucking a child into bed, reading a bed time story, then preparing the room to make the child feel safe. This can be done by closing closet doors and shutting window blinds to create a safe atmosphere.
Establishing a sleep friendly environment: Sleep For Kids recommends rooms that are cool, quiet and dark. Turning off computers and TVs helps with this, as do blackout shades for children where light pollution can interrupt their sleep. Closing window blinds can also create a feeling of comfort and help block sound from outside. "Double cell honeycomb shades can actually 'zip' a window closed, offering effective sound barrier," says Stanley "as well as provide some energy efficiency."
For More Information:
For more information on Blinds Chalet or current trends in the Window Treatment industry, contact Chris Stanley by phone at: 1-888-633-7840 or 480-633-7840 or email at info(at)blindschalet(dot)com. Visit Blinds Chalet on-line at http://www.BlindsChalet.com
# # #