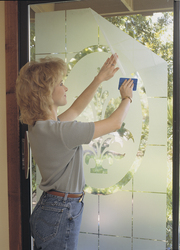 Cocoa, FL (PRWEB) July 28, 2008
A new Decorative and Privacy Window Film Catalog for residential and commercial uses has been released that includes new designs and sizes by Wallpaper For Windows. The catalog features an assortment of adhesive-free, Do-it-Yourself, decorative and privacy window films that create the look of frosted, etched and stained glass, while providing benefits such as energy savings (film insulates glass to keep room cooler in the summer and warmer in the winter), UV filtering (protects furnishings from fading) and diffusing glare and harsh sunlight into pleasant natural light.
Used to decorate glass doors, windows, mirrors and glass furniture, these decorative window films can be used to create complete privacy, add partial privacy, or add a decorative element without blocking the view.
The products that decorate without blocking the view, range from decorative accents like Centerpieces (oval designs that are centered on a glass door or large window), Corners and Borders (an easy way to add a decorative touch to a window or door) to Stained and Etched glass designs that cover the entire door or window but have clear areas in the designs that can easily be seen through.
Partial and complete privacy designs range from etched glass that allows one to see through the clear pattern to Frosted and Stained Glass which provides complete privacy. These designs are commonly used to prevent visitors and neighbors from seeing into the home or business, as a decorative replacement for blinds that were always kept closed and in bathrooms to add privacy to glass shower doors/enclosures and windows. (Film is unaffected by steam and moisture.)
Because adhesive-free films are removable and reusable, they are recommended for renters and homeowners. The catalog is available online at http://www.wallpaperforwindows.com/ProductCatalog .
For additional information on decorating with decorative window film contact Wallpaper For Windows customer service at 800-320-8439.
About Wallpaper For Windows
Wallpaper For Windows! is manufactured in Cocoa, FL USA by EtchArt, LLC using Made in the USA materials. Since 1996 Wallpaper For Windows has been a pioneer in the decorative adhesive-free window film market (at the time, many people were using contact paper). Wallpaper For Windows was chosen as one of the 5 Best new products by ABC's Good Morning America TV show in 1999. The inventor of Wallpaper For Windows! recently repurchased the company, and since then, the company has released and has in development a number of new product lines and designs.
Contact:
Randy Walker, Public Relations
Decorate With Window Film
800-320-8439/321-504-4060
http://www.decoratewithwindowfilm.com
Print quality images happily furnished upon request.
# # #