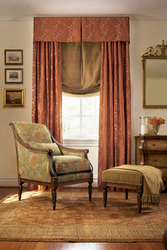 Why do we feel cold in bare-window rooms in the winter? Because our body heat radiates to these cold windows. Window treatments make us feel more comfortable without turning up the thermostat.
Kennett Square, PA (Vocus) October 15, 2008
Most homeowners would be shocked to learn that as much as 40% of the heat that escapes a home in winter is lost through the windows.
Furnaces and air conditioners use more energy than any other system in your home--and when that warmed or cooled air leaks out through the windows, it has to be replaced. At a time when consumers are looking to cut back on energy use, layered window treatments can be an appealing part of the solution.
"Layer up! That was the command from my mother to her kids heading out to play in the snow," recalls Julie Morris, Custom Labor Manager for the Calico Corners - Calico Home stores. "Several layers of light clothing keep us warmer than one layer of heavy clothing. And the same is true of a room with layered window treatments." Air pockets between the layers create degrees of insulation--the more layers, the more warmth.
The advantage of layered window treatments is that they can be opened and closed to allow solar gain or loss to work for the season, continues Morris. "Why do we feel cold in bare-window rooms in the winter? Because our body heat radiates to these cold windows. Window treatments make us feel more comfortable without turning up the thermostat."
But style doesn't have to be abandoned when making your house more energy efficient, counsels Morris. "Taping plastic over your windows will keep cold air out, but there is a way to decrease heat loss without feeling as if you're residing in a Zip-Loc bag." The shade and drapery options below are not only practical, they're aesthetically pleasing, too.
A three-layer solution from Calico Corners - Calico Home
Each layer at the window has an R-Value, which measures the ability of a product to resist heat flow. The higher the R-Value, the more effective that product is at insulating and reducing loss of warm or cool air. Single-pane windows have an R-Value of about 0.9, while double-pane windows double the R-Value to 1.84. As window treatments are added, R-Values keep increasing. With two or three layers, they'll add up to real energy savings. Here are "Good-Better-Best" ways to use window treatments to help insulate your home:
Layer 1: Shades are a good solution
Shades mounted inside window moldings are the first line of defense to minimize air convection. Custom-made fabric shades (flat roman shades, London shades, balloon shades) will fit perfectly and can be made with thermal linings. Roller shades will help a little, but they are just a single layer at the window. Kirsch pleated cellular shades (available at Calico) are a good alternative: they trap air within the honeycomb pockets of the shade so little air escapes through the glass. The more opaque the cellular shade, the higher the R-Value--translucent fabrics are about 3.5. Some shade styles have double cells, further increasing the layers of trapped air. Calico Corners offers 15 shade styles in 4,000+ fabrics, plus 9 Kirsch cellular shades and other hard window treatment choices.
Layer 2: Draperies over shades are a better solution
Adding lined floor-length draperies over shades adds further insulation. Drapery panels should return to the wall, fit tightly and overlap in the center to reduce the convection of air in front of the window. This solution creates three trapped air spaces--each one increases the level of insulation.
Draperies should be floor-length for energy efficiency but should not block heat or air registers. Finally, make shades and draperies with light-colored linings to reflect summer heat away from the house.
Layer 3: A top treatment over the drapery and shade is the best solution
Add an upholstered cornice, a pretty valance or other board-mounted top treatment to cap the drapery. Now air is completely trapped behind the window treatment. Cold air will drop to the floor, but be caught behind the folds of the drapery, while warm air is trapped at the top of the window, reducing drafts. Calico Corners stores offer 30 styles of board-mounted top treatments.
The Low-Down on Linings
Several drapery linings sold at Calico Corners - Calico Home have special features and finishes to increase insulation, including Thermalsuede linings, blackout lining, interlining and bump cloth. Thermalsuede is a medium-weight lining, manufactured with a thin layer of insulating acrylic foam applied to the base fabric. The lining becomes non-porous, not allowing air to pass between the window and the inside of the room.
Interlining and bump cloth are flannel-like fabrics sandwiched between the exterior lining fabric and the interior decorative fabric (more layers!). They enhance lightweight silks and drapery fabrics, adding body and shape retention. "Interlined draperies have heavier pleats and additional fullness in the folds, creating a more luxurious finished look," notes Morris. "They have the greatest resistance to sun and moisture damage. In addition, interlining can baffle noise and provide a high degree of thermal insulation, really kicking up the R-Value." Blackout linings also provide excellent thermal insulation qualities, in addition to blocking light.
Energy saving tips for the winter
Open and close your window treatments to take advantage of natural warmth. The basic rule is that when outside temperatures are colder, open window treatments during the day and close them at night. The reverse applies to hot climates where the larger concern is keeping cool air inside--close window treatments during the day and open them at night where privacy is not a concern. This will also protect fabrics and furnishings from fading in strong sunlight.
Calico Corners - Calico Home stores provide expert decorating advice and in-home design consultation in more than 100 stores across the country. They offer high quality custom-made window treatments at prices frequently below ready-mades. Consumers will also find thousands of designer fabrics for the home at value prices; window blinds and shades; custom upholstered furniture, plus rugs, lamps, decorative accents and more. Thousands of fabrics are available online. For more information or to find the nearest store, visit http://www.CalicoCorners.com or call (800) 213-6366.
The best way to prevent drafts and heat loss at the windows is a three-layer window treatment: shade, draperies and valance or cornice, lined and interlined. Here a center-pleat Roman shade, board-mounted valance and pleated draperies in silk completely encase the window to keep the room warmer without turning up the thermostat. All are custom made by Calico Corners - Calico Home stores to fit the window perfectly.
Contemporary window treatments from Calico Corners - Calico Home also can be energy-efficient. A lined front-slat Roman shade fits perfectly inside the window molding as the first line of defense against heat loss. The grommet draperies have a thermal lining to add insulation when closed at night.
Images available in hi-res upon request. Please contact Linda Emmons at lemmons @ calicocorners.com
# # #