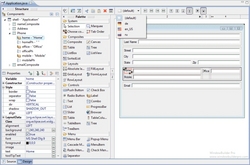 Instantiations continues to deliver high quality, innovative tools for the Eclipse platform that help developers utilize Eclipse more effectively, and we're pleased with their continued support of Eclipse.
Santa Clara, CA (PRWEB) March 24, 2009
Instantiations, Inc., a leading provider of Eclipse-based commercial software solutions, today released version 7.0 of its market-leading WindowBuilder™ Pro Java graphical user-interface (GUI) builder, and was awarded the "Best Commercial Eclipse-Based Developer Tool" by the Eclipse Foundation at EclipseCon 2009. WindowBuilder Pro includes powerful functionality for creating user interfaces based on the popular Swing, SWT (Standard Widget Toolkit), and GWT (Google Web Toolkit) UI frameworks.
Updates in v7.0 include UI Factories, a convenient way to create customized, reusable versions of common components, improved parsing using binary execution flow, a new customization API for third party extensibility, Eclipse Nebula widgets integration (SWT), Swing Data Binding, JSR 295 (Swing), and full support for GWT-Ext widgets and layouts (GWT).
"It has been impressive to see the continued growth and popularity of WindowBuilder Pro," said Mike Milinkovich, executive director of the Eclipse Foundation. "Instantiations continues to deliver high quality, innovative tools for the Eclipse platform that help developers utilize Eclipse more effectively, and we're pleased with their continued support of Eclipse."
WindowBuilder Pro was acknowledged as the "Best Commercial Eclipse-Based Developer Tool" by the Eclipse Foundation at an award ceremony Monday night, March 23, at EclipseCon 2009. The highly acclaimed Instantiations product was one of three finalists out of a pool of 64 total candidates, and then selected number one by a panel of judges from the Eclipse community. WindowBuilder Pro was chosen for its usability, innovation, flexibility across different types of Java user interface frameworks, and the ability to solve the unique problems of software developers.
In addition to being an award winner, Instantiations is a Silver Sponsor Exhibitor at EclipseCon 2009, president and CEO, Mike Taylor was re-elected to the Eclipse Foundation board, and members of Instantiations' senior technical staff are making the following presentations:

Building Commercial-Quality Eclipse Plug-Ins: Tutorial by Dan Rubel and Eric Clayberg, Mon. March 23, 8:00 a.m.
RAP versus GWT: Dan Rubel and Mark Russell, Tues. March 24, 2:20 p.m.
Birds of a Feather Session and Reception: "Eclipse Plug-ins" authors showcase and interview, Tues. March 24, 7:30 p.m.
UI Testing Patterns and Best Practices: Phil Quitslund and Dan Rubel, Wed. March 25, 10 a.m.
"We are thrilled with the Eclipse Foundation's recognition of WindowBuilder Pro as the best commercial Eclipse-based developer tool," said Eric Clayberg, Instantiations senior vice-president of product development, co-founder of Instantiations and co-author of Eclipse Plug-ins. "We are extremely committed to innovating and evolving the product to exceed the expectations of our thousands of loyal customers. WindowBuilder Pro is an incredibly flexible and feature rich development tool that showcases the depth and power of the Eclipse platform."
WindowBuilder Pro is a market-leading bi-directional Eclipse GUI builder which seamlessly integrates into any Eclipse-based Java development environment. With its drag-and-drop functionality, developers can easily add many components and create complicated windows in minutes, with Java code being generated automatically. The product includes a visual design editor, wizards, intelligent layout assistants, localization and more. WindowBuilder Pro component products include Swing Designer™, SWT Designer™, and GWT Designer™.
New in WindowBuilder Pro v7.0

UI Factories - Create an unlimited number of customized widgets that are available from the palette.
Improved Parsing Using Binary Execution Flow - Even better at parsing handwritten and hand-re-factored code.
Customization API - provides a much more extensible platform that allows third parties and OEMs to integrate more easily.
Nebula Widgets Integration (SWT) - handy integration for the Eclipse Nebula widget kit
Swing Data Binding, JSR 295 (Swing) - Create associations between widgets and a back-end data source.
GWT-Ext Support (GWT) - Full support for the popular GWT-Ext widgets and layouts.
Pricing and Availability of WindowBuilder Pro
WindowBuilder Pro v7.0 is available for $329 USD with a traditional software license that includes 90 days of upgrades, maintenance and technical support. Discounts are available for multiple licenses or combined product purchases. Product upgrades are available at no cost to customers with current support agreements. Find complete product pricing details at http://www.instantiations.com or download a full-feature trial evaluation.
Other Product Updates
The company also announces version upgrades to CodePro AnalytiX™, CodePro Profiler™, WindowTester™ and RCP Developer™.
CodePro AnalytiX V6.1 is a comprehensive automated software quality and code security tool that helps developers decrease potential code security vulnerabilities early in the software development lifecycle and improve Java code quality and reduces development costs through increased developer productivity.
CodePro Profiler V2.1 is a run-time performance analysis tool for Eclipse Java developers; it helps developers to efficiently find performance problems in code during development, while ensuring the creation of fast, reliable and high quality applications.
WindowTester V3.8 is the leading tool for automating the testing of Swing and SWT graphical user interfaces.
RCP Developer V3.8 helps developers accelerate the creation of Eclipse RCP applications, providing tools to design, test, document and deploy Eclipse Rich Client Platform applications.
Download full-feature trial free trials from http://www.instantiations.com/prods/docs/download.html.
About Instantiations
Based in Portland, Oregon, USA, Instantiations is a leading innovator of Eclipse-based solutions and focuses its products and services on improving quality, security, productivity and time-to-market for global software development organizations. The company is also a major contributor in the Smalltalk language market with its VA Smalltalk product. Led by a team of internationally-recognized pioneers in Java and Smalltalk software technology, Instantiations is a founding member of the Eclipse Foundation and the Smalltalk Industry Council, and is an IBM Business Partner. With a line of products for Eclipse, IBM Rational®, JBuilder® and MyEclipse™, the company is named as one the fastest-growing Oregon companies three years running and has been repeatedly ranked among the Top 100 companies influencing software development by SD Times. For more information, visit http://www.instantiations.com.
CodePro AnalytiX, CodePro Profiler, WindowBuilder, Swing Designer, SWT Designer, GWT Designer, RCP Developer and WindowTester are trademarks of Instantiations, Inc. Java is a trademark of Sun Microsystems. All other trademarks are the properties of their respective companies.
# # #