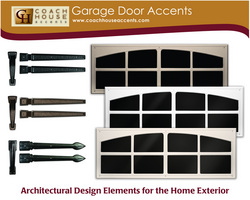 "Coach House products are much more durable than the imported products you will find in the marketplace," said Tim Grant, Product Development Manager
Grand Rapids, MI (PRWEB) March 30, 2011
Coach House Accents announces the first in a series of architectural design products planned for the home. These products are designed to enhance the curb appeal of your home beginning with the garage door. These window overlays and hinge and handle sets are very affordable, extremely durable, easy to install, and made in the U.S.A. sophisticated.
"Coach House products are much more durable than the imported products you will find in the marketplace," said Tim Grant, Product Development Manager. "They are stronger and more durable, and are virtually maintenance-free because of the finishes and high quality composite materials used. The combination of materials and finishes make our products perfect for all weather conditions which is why we can back our product with a 15 year warranty. They will outlast your garage door."
The window overlays are available in three colors: white, sandstone and almond. They provide the same great look of traditional windows without the cost, security concerns, or maintenance and insulation shortcomings of real windows. These window overlays come in sets of two for each 8-foot section of a garage door. They are easy to install with common household tools in less than 20 minutes.
The separate handle and hinge sets give a plain garage door a sophisticated carriage-house look. These accent pieces are available in two styles: the "Traditional Series" in black and the "Signature Series" in deep bronze and heritage black. Each set includes 4 hinges and 2 handles.
Before & after images can be seen on their website that shows clearly how much of an impact these accents have on a home's appearance.
Following the initial roll-out of the product line the in Atlanta, Orlando, and Birmingham, Coach House Accents will next display their new line of products at the National Hardware Expo in Las Vegas, NV May 10-12 and the IDA Expo, Indianapolis, IN June 1-4.
Coach House Accents products are available from local garage door dealers and online. To locate a local retailer, use our on-line dealer locator. To purchase on-line, visit http://www.coachhouseaccents.com/store, where you can find more detailed product information, installation instructions, and a gallery of homes with and without products installed. Dealer inquiries should be directed to Denco Marketing.
About Lacks Enterprises , the makers of Coach House Accents– with headquarters in Grand Rapids, Michigan, LACKS is a leader in the decorative trim marketplace and has enjoyed nearly 50 years of success developing products for the automotive, commercial truck and home appliance industries. LACKS Enterprises, Inc. is a privately held and family owned company. LACKS operates 17 injection molding, electroplating, painting and assembly facilities in the U.S. and employs over 2,000 people. LACKS is proud to be an environmental leader within the industry, including ISO 14001 Standard Certification. Their facilities strive for unparalleled quality and value in its products, from its patented Chromtec® technology to the latest in proprietary electroplating processes like Platinum™ Chrome, Spinelle™ Metal Finishes, TRAKTR Chrome® Wheel Trim Systems and now Coach House Accents. By incorporating their strength in manufacturing and finishing, they are committed to becoming a leader in providing excellent products for the home exterior market.
###