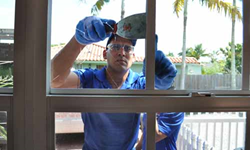 We will be happy to help with window or sliding glass door repair, but we do not handle broken auto glass
Miami, Florida (PRWEB) February 26, 2016
Express Glass and Board Up, a top-rated home glass and window repair service for Miami, Florida, is proud to announce a web page update on issues specific to home or residential glass repair needs as projected for the 2016 year. The company offers residential, home glass and window repair services. Auto glass is not a service provided by Express Glass.
"Sometimes our returning customers may call us and ask if we also provide auto glass service," explained Yaniet Santos, General Manager of Express Glass. "We will be happy to help with window or sliding glass door repair, but we do not handle broken auto glass. This is just one important issue we have updated on our page for 2016, as we evaluated information needs at the end of 2015."
To view the updated page about residential, home glass and window repair in Miami, go to: http://www.expressglassfl.com/home-window-repair/.
The newly updated page gives information on 2016 service availabilities and clarifies that despite strong customer demand, the company will not be offering auto glass repair service in 2016.
Residential, Home Glass and Window Repair are on the Checklist for Miami Residents.
Smart Miami homeowners may keep a checklist of the best services to call in case of a home repair emergency. The best plumber, auto glass and home glass repair services may be on the list. When glass breaks, it is important to know which service provides the right glass repair. Residential window glass and auto glass are not the same type of glass. Calling the wrong service for auto glass may be a waste of valuable time; even worse, some unscrupulous vendors may claim expertise in a specific type of glass repair without actually having it!
Express Glass of Miami has recently issued a 2016 update to the web page clarifying the type of service provided. The company offers professional residential, home glass and window repair. Express Glass does not offer auto glass service. Miami homeowners looking to update an emergency checklist can keep Express Glass on the sheet for residential, home glass and window repair.
About Express Glass and Board Up
Express Glass and Board Up Service Inc. is a family owned and operated glass repair business with more than 20 years of experience. Professional technicians and the large variety of inventory make Express Glass the top glass repair service in Florida. If customers are looking for residential, home glass and window repair for Miami or Ft. Lauderdale glass repair as well as glass repair in Delray Beach please reach out to the company for a free estimate. If customers need emergency 24/7 home glass repair service in Miami, Boca Raton or Miramar, Express Glass is available. Express Glass is a leader in residential, home glass and window glass repair for the Miami, Florida area.
Express Glass Repair and Board up
http://www.expressglassfl.com/