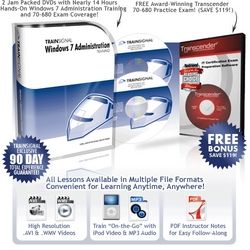 Schaumburg, IL (PRWEB) July 13, 2010
Train Signal, the global leader in professional computer training, is excited to announce the release of their new Windows 7 Administration Training course.
In the wake of its recent release, Windows 7 has garnered the approval of the media and network administrators alike. As many organizations move to upgrade their systems, administrators must quickly acquire new skills. "Windows 7 brings a lot to the table and for those who skipped Vista and are moving straight from XP to Windows 7, this will be an invaluable resource. Our training covers Windows 7 Administration from top to bottom, and it includes comprehensive exam coverage for the 70-680 MCTS exam." says Iman Jalali, Director of Sales and Marketing.
Instructor, Scott Lowe comes with over 14 years IT experience. He holds MCSE and CNA certifications and has authored 2 technology books. "I think the biggest benefit of my Windows 7 training course is the fact that it is scenario based. Rather than just being told to "click here" you're getting the explanation of why you're doing something, which will not only help you retain the material better but also help you understand how Windows 7 works, because there's some context to what you're learning." said instructor, Scott Lowe.
Windows 7 Administration Training provides over 14 hours of hands-on instruction beneficial for those new to Windows as well as the more experienced users. This course teaches concepts immediately applicable in the workplace. In addition, the free Transcender practice exam will help you prepare for MCTS 70-680 certification. The Windows 7 training course also comes with a 90 day guarantee.
Available in multiple file formats, topics include:

Installation & Deployment
Device Management
Networking
Security
Application Management
Monitoring & Performance
About Train Signal: Founded in 2002, Train Signal provides computer-based "Total Experience" training that gives individuals the tools and confidence to tackle real-world challenges, pass their certification exam and succeed in today's competitive global IT market.
Train Signal offers a wide range of computer training packages covering Microsoft, Cisco, CompTIA, VMware, and Microsoft Office. In addition to its Windows Server 2008, Exchange 2010, and SQL Server 2008 courses, Train Signal offers training for over forty-eight different titles including: VMware vSphere, Cisco CCNA and CCNP, CompTIA Security+ and more. A privately-held company, Train Signal is based in Schaumburg, IL. For more information about Train Signal, please visit http://www.trainsignal.com.
# # #