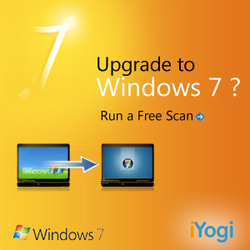 We are offering the most comprehensive range of options to consumers and small businesses to help with migrating to Windows 7. They can use our free, easy-to-use tools or professional services that will make the upgrade painless and hassle-free
New York, NY (Vocus) October 24, 2009
iYogi, the fastest growing on-demand tech services company, launched today a comprehensive suite of tools and services for users upgrading or migrating to Microsoft's new Windows 7 operating system. iYogi's new free solutions include the Windows 7 Basic Migration tool to help migrate data and personalized settings and provide a comprehensive online resource for downloading and installing applications. The paid Windows 7 Premium Migration service offers assisted migration using advance tools for data, personalized settings and applications, without any need for re-installation. The Windows 7 Professional & Advance Migration Service is a comprehensive solution delivered by Microsoft Certified Technicians to effortlessly move consumers to the vastly improved new platform.
iYogi's Windows 7 Migration Programs include:

Windows 7 Readiness Test: A free online application for users to check hardware and software compatibilities, and disk space requirements for upgrading on your current PC.
Windows 7 Basic Migration: A free utility that automates the migration of user data and settings from Windows XP to Windows 7, on their existing machines. It guides the users through the process of manually re-installing their favorite applications.
Windows 7 Premium Migration: Windows 7 Premium Migration Service provides advanced tools for comprehensive migration including transferring you software programs to dramatically reduce time by automatically reinstalling your applications and settings. Instant access to Microsoft Certified Experts via chat, anytime 24/7. Costs $29.99.
Windows 7 Professional Migration Service: Microsoft Certified Professionals will professionally migrate data, applications and user settings via remote access for Windows XP and Windows Vista users on their existing PC. Costs 39.99.
Windows 7 Advance Migration Service: Microsoft Certified Professionals will professionally migrate data, applications and user settings via remote access for Windows XP and Windows Vista users to their new PC. This service also helps in customization and setup of the new computer. Costs 39.99.
"We are offering the most comprehensive range of options to consumers and small businesses to help with migrating to Windows 7. They can use our free, easy-to-use tools or professional services that will make the upgrade painless and hassle-free," said Vishal Dhar, President of Marketing & Co-founder of iYogi."
Along with the migration utilities and support, iYogi has built a comprehensive website at http://windows7.iyogi.net that is a ready reference for anyone migrating to Windows 7 and provides news, features, reviews and a step-by-step guide to application migration.
For more information on Windows 7 and iYogi, visit http://windows7.iyogi.net/migration.
ABOUT IYOGI
iYogi is a global on-demand services company that provides personalized computer support for consumers and small businesses in United States, United Kingdom, Canada and Australia. iYogi's unique model, including proprietary technology iMantra and highly qualified technicians, is designed to eliminate computer-related stress and keep millions of digitally dependent consumers and small businesses always protected and productive. Only iYogi -- with its proven global expertise delivery model, intelligent customer insight systems, easy-to-use self-help tools and automated PC optimization and computer support services – offers users a simple yet comprehensive path to digital serenity. iYogi has perfected the remote technical support model to overcome the current limitations of in-store, on-site, or call center services to become the fastest growing provider of support in the industry. Major resellers and technology companies are increasingly turning to iYogi to improve customer satisfaction, reduce return rates, and deliver a compelling new-value added offering to customers. For more information on iYogi and a detailed list of technologies supported, visit: http://www.iyogi.net.
###