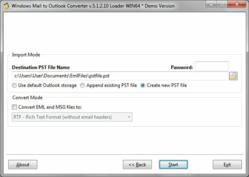 Enter PRWEB20 coupon code during purchase and get 20% discount!
Toronto, ON (PRWEB) November 16, 2011
The full version of Microsoft Outlook has many features that other mail clients do not. That's why so many people want to make the switch from Windows Mail and Windows Live Mail over to the Outlook (full version of the email client). Unfortunately, this is not easy because the files are stored in different formats. Windows Mail to Outlook Converter software can take those messages that are in EML, MSG, DAT (Tnef) format and convert them into the PST file format used by Microsoft Outlook. Not only are email messages converted, but also the attachments, the folder configurations, the headings, and more are converted as well.
Windows Mail to Outlook Converter is better than the other conversion tools on the market. Its interface is clean and easy-to-use, and it employs a step-by-step wizard that tells the user what to do to convert the files. No special computer skills are required. The program features a proprietary algorithm and conversion engine that protect the original data and automatically converts copies of the original files.
It is proven that Microsoft Outlook increases productivity and effective communication. But, converting years worth of email files to that great system can be stressful, dangerous and challenging without the proper tool. Windows Mail to Outlook Converter is the correct tool to get you moving in the right direction with all your files and all your data safe and secure in .PST format.
System Requirements:
Windows Mail to Outlook Converter runs under Windows 98, Me, NT 4.0, 2000, XP, Windows Vista and Win7 and is compatible with Outlook 98, 2000, 2002, 2003, 2007 and 2010. Both editions 64-bit and 32-bit are supported.
Pricing and Availability:
Windows Mail to Outlook Converter can be purchased for as low as $25.95 (individual 1-year license), however an unlimited license is also available as the two- and three-year options for individual and business licenses. Detailed information about Windows mail to Outlook Converter, an online help section, frequently asked questions, case studies and a free trial version of the program are available at our site.
The software can be purchased worldwide through our official resellers. These platforms support nearly all existing payment methods, including major credit cards: VISA, MasterCard, Amex and Discover.
Download Windows Mail to Outlook Converter Now!
Product Site: http://www.windowsmailtooutlook.com
Usage Instruction: http://www.windowsmailtooutlook.com/windows-mail-to-outlook-converter-instruction/
###