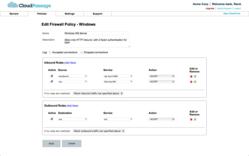 Halo guards against attacks in the cloud with powerful protection for RDP and other sensitive services, while automating a slew of other Windows cloud server security tasks
San Francisco, CA (PRWEB) July 25, 2012
CloudPassage, the leading provider of security for cloud servers, has expanded its award-winning Halo cloud security platform to protect cloud servers running the Windows operating system. The new release provides even greater levels of flexibility and functionality for those managing servers in public and hybrid cloud environments. With Halo, which also supports all major Linux distributions, users can now centrally manage dynamic cloud firewalls across multiple operating systems and cloud deployments, lock down administrative and application ports with a unique SMS-powered multi-factor authentication service, and be notified of critical cloud server security events.
"It's no secret that one of the biggest barriers to enterprise cloud adoption is security concerns," said Wendy Nather, research director for the enterprise security practice at 451 Research. "Enterprises aren't looking for a piece-meal solution, but one that will address vulnerabilities in any environment, so that they can rest assured that their cloud servers are secure."
In a recent survey conducted by CloudPassage, 74 percent of cloud users said that they are running a mix of both Windows and Linux servers in the cloud. Delivered as Software-as-a-Service (SaaS), CloudPassage Halo offers critical security controls for these servers, allowing companies to confidently extend their security policies to servers running in any cloud environment.
"It's estimated that Windows servers make up more than 40 percent of the public IaaS market share, and those servers are exposed to exploits such as the recent RDP vulnerabilities announced by Microsoft," said Rand Wacker, vice president of product management for CloudPassage. "Halo guards against attacks in the cloud with powerful protection for RDP and other sensitive services, while automating a slew of other Windows cloud server security tasks."
Also included in Halo is GhostPorts multi-factor authentication, which now supports SMS authentication for cloud servers to help customers easily and safely control access to administrative and other applications. Protecting access to administrative services like Windows RDP is critical in the cloud, where there is no outer perimeter of access control and administrative ports are often left open to the world.
"Automating security for cloud servers is critical for any highly scalable deployment. CloudPassage Halo streamlines management and deployment of security policies across Windows and Linux servers as a single group, helping me save time for everything else I need to get done," said Aaron Faby, CTO at Premier Innovations, a Los Angeles-based hosting provider.
Halo supports the following operating systems: Windows 2008R1 and R2, RedHat Enterprise Linux, Fedora, CentOS, Debian, Ubuntu, and Amazon Linux. Halo runs on servers in any public or private cloud environment, including Amazon EC2, Rackspace, GoGrid, VMWare, OpenStack, and all other virtualization and cloud stacks.
Availability and Pricing
Halo's support for Windows is available in all subscription packages, including Halo Basic, which offers free cloud firewall and security event alerting for up to five servers. Halo NetSec adds multi-factor authentication and unlimited server support for 3.5 cents per server-hour, with discounts that apply automatically based on the number of servers protected. To learn more, and to sign up for the Halo cloud server security platform, visit http://www.cloudpassage.com/plans
About CloudPassage
CloudPassage is the leading provider of public and private cloud server security and creator of Halo®, the industry's first security and compliance platform purpose-built for elastic cloud environments. Halo operates across public, private and hybrid clouds. Industry-leading companies like Foursquare, Avatar New York and Martini Media trust Halo to seamlessly manage their server security configuration, host-based firewalls, intrusion detection and server account auditing from one system. Headquartered in San Francisco, Calif., CloudPassage is backed by Benchmark Capital, Tenaya Capital and other leading investors.
CloudPassage and HALO are registered trademarks of CloudPassage. All other trademarks are registered to their respective companies.