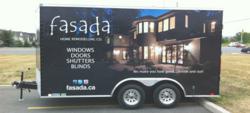 We make you look good... inside & out!
Oakville, Ontario (PRWEB) August 18, 2012
Fasada Home Remodelling Co. was originally founded in 1999 and quickly earned the reputation of providing premium products and installations for windows and doors. The popularity and success of Fasada's high quality products and installations caused the company to have to expand rapidly in order to meet the growing demand for their products and services. Last year the company opened a second location in Burlington that allows them to better serve their customers to the west of Oakville.
Only a mere year later, Fasada has once again expanded with the release of their new trailer. No, not a movie trailer! Fasada is going back to their roots by continuing to provide a mobile showroom that features several high quality products including energy efficient windows and doors for the home.
Why all the hype about Fasada's new trailer? The trailer has a completely new design by VitalGroup that is quite frankly, amazing. The scene: a beautiful home's stunning windows and doors illuminate a nightscape and showcase the serenity and warmth that Fasada's products can bring to ones home's décor. Other vehicles on the road will certainly take notice as this trailer drives by.
In addition to the stunning visuals, the trailer markets Fasada's products by prominently displaying the four main pillars of their business which are windows, doors, shutters and blinds. Finally, the trailer places the company's website address prominently so that viewers know exactly where to go for more information about custom windows and doors.
The exciting news for people in Oakville and Burlington areas is the new trailer can provide the opportunity to win a free trip. People who spot the trailer on the streets can text the company to be entered in a contest where the grand prize is a free vacation.
When it comes to mobile service Fasada reigns supreme. Their mobile showroom features the newest home design and décor trends of the 2012 season. Whether a customer needs a design consultation for the latest colours and textures of energy efficient window coverings or wants some advice on what energy ratings mean and the value that each can provide homeowners when it comes to savings, Fasada is always happy to help. Fasada's team is happy to answer questions, give information and education or even provide design consultations.
With 2012 two-thirds of the way complete, Fasada's team is looking towards 2013 as the newest window and door trends and home décor fashions begin to emerge. A sneak peak of these trends indicates that consumers are looking for a heavier emphasis on energy efficiency and safety. No surprise here as many homeowners are searching for additional ways to save money and energy efficient products like blinds and shutters are excellent ways to reduce energy bills throughout the home.
For more information about how to enter the trip giveaway contest, other online contests, or for more information about Fasada's products and services including installation of windows and doors visit the company's blog or check out their website http://www.Fasada.ca which features the latest products and design trends for 2012 and 2013.