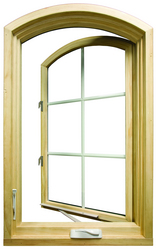 The key for Ply Gem in bringing new options to the market is to provide customers with as many quality options as possible while maintaining high value
Cary, NC (PRWEB) October 6, 2009
Ply Gem, a leading manufacturer of window and door products for residential construction, recently announced that four new styles of radius operable and picture casement windows will become available under the Ply Gem Windows Mira™ Premium Series product line in October. The new styles include extended eyebrow, quarter eyebrow, half round and quarter half round, all in both operating and stationary options.
"The key for Ply Gem in bringing new options to the market is to provide customers with as many quality options as possible while maintaining high value," said Chris Pickering, vice president, marketing, Ply Gem windows.
The four new Ply Gem Windows Mira Premium Series styles will be available in eight clad colors with the same hardware and grille options offered in the existing collection. They will also continue to boast some of the highest energy efficiency and durability performance in the industry. Ply Gem builds the windows with Low-E glass and argon fills to meet ENERGY STAR® thermal requirements in all climate zones and to help homeowners cut down on heating and cooling costs.
Treated wood frame and sash parts prevent damage from water and fungus, therefore increasing the integrity of the windows. The windows' exterior cladding utilizes extruded rather than roll-formed aluminum to resist against dings and dents, plus has an American Architectural Manufacturers Association (AAMA) 2604 finish that provides superior resistance to chalking and fading.
The patent-pending mull system available with Ply Gem Windows Mira Premium Series windows is self aligning and makes installation of the windows as simple as possible. The rigid mull system allows multiple window types to be combined, providing more design options for large window combinations.
"The Ply Gem Windows Mira Premium Series offers builders the whole package," said Pickering. "From the ease of installation and the aesthetic characteristics to the long lifespan and high value of these windows, the series offers the right product for anyone building a distinctive, new home."
The new styles will be available through the same channels as the existing Ply Gem Windows Mira Premium Series. Look for these windows at professional lumberyards and specialty dealers.
For more information, please visit http://www.plygemwindows.com.
About Ply Gem
Ply Gem, headquartered in Cary, N.C., is committed to helping North America's homebuilders, remodelers, architects, distributors, dealers and retailers do more than build homes. Ply Gem wants to help them build their business. The Company offers an unmatched solution to exterior building product needs with a portfolio that includes leading window, door, siding and accessories, stone veneer, fence and rail brands so there is something for every project. Ply Gem siding brands including Mastic Home Exteriors ™, Variform®, NAPCO®, United Stone Veneer, Kroy®, Cellwood®, Georgia Pacific, DuraBuilt®, Richwood®, Leaf Relief® and Monticello® Columns. Ply Gem Windows manufactures and markets vinyl, vinyl-clad, wood-clad, aluminum-clad, and aluminum window and patio door brands including Ply Gem® Windows, CWD® Windows and Doors and Great Lakes® Window. The Company's brands are sold through short-line and two-step distributors, pro dealers, home improvement dealers and big box retailers. Ply Gem employs more than 4,700 people across North America. Visit http://www.plygem.com for more information.
###