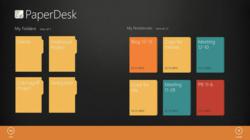 #3 in the Paid Productivity Apps
Ann Arbor, MI (PRWEB) January 30, 2013
PaperDesk, formerly only available on the iPad, recently released a minimalistic version of their app in the Windows Store. It's pretty slimmed-down if you're accustomed to the iOS app, but the basic features remain. What it lacks in robustness it makes up for in simplicity and intuitiveness, and apparently it's destined to be even greater. At the time of this writing it ranked #3 in the Paid Productivity Apps category.
In PaperDesk for Windows 8 RT, users can keep folders and notebooks, just as they can in the organizational system in the iOS version. The names of the folders and notebooks are editable, and you can choose from 5 different colors for the notebooks. Once they enter a notebook, users can type notes via the on-screen keyboard or any other keyboard that works with their tablet. Additionally, users can handwrite notes with their finger or a device-compatible stylus and control the color, opacity, and size of their on-screen pencil tip. There's even a few "quick pens."
So what's missing? The makers of PaperDesk have yet to implement audio recording, task lists, bookmarks, pinch-zoom, and Dropbox integration. However, the RT-specific "Share Charm" allows for document sharing between programs - eh em - apps, so file sharing is exponentially easier and more intuitive. Additionally, the digitizer stylus which accompanies the Microsoft Surface Pro (and is available for purchase to use with the original Surface tablet) allows for easy handwriting with perfect wrist ignore functionality.
Something that PaperDesk on RT really has going for it, above its iOS counterpart, is a cleaner, more appealing interface. However, the PaperDesk team is planning a UI redesign for its die-hard iPad users.
PaperDesk in the Windows Store is just $2.99, a few bucks less than what you'll find it for in the App Store. The PaperDesk team has been working on the app since its release in May, 2010. It started with just their Lead App Developer Scott Hasbrouck, with Lida Hasbrouck jumping on as Project Strategist in March, 2012. App Development Consultant Andrew Colchagoff has helped PaperDesk along the way and co-developed PaperDesk for Windows 8 RT. Anne Labadie, Customer Advocate, is the newest (and possibly most prominent) addition to their small team.
Find more information about PaperDesk or contact the team.
PaperDesk is a product of Webspinner, LLC. It is currently developed in the Northern Brewery at 1327 Jones Drive Suite 107A, Ann Arbor MI, 48105.