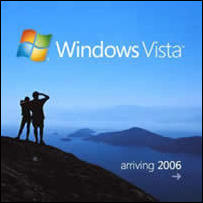 Many people are eagerly waiting for Windows Vista to be released, and many of our customers have asked us about reserving their copies ahead of time – they want to avoid any potential shortages when Vista is released
Milwaukee, WI (PRWEB) August 10, 2006
AtomicPark.com, a fast-growing technology e-retailer, announced that they are taking reservations for Microsoft's upcoming Windows Vista operating system on their website. Customers can reserve a full version of any of the Vista operating systems for a deposit of $100, or an upgrade version for a deposit of $50. AtomicPark.com is currently the only online retailer taking reserves on Windows Vista, which is expected to ship January 2007.
"Many people are eagerly waiting for Windows Vista to be released, and many of our customers have asked us about reserving their copies ahead of time – they want to avoid any potential shortages when Vista is released," said President and CEO Anthony Boldin. "Some people are holding off on buying a new PC until after Vista is out on the market, while others are in the process of upgrading to take advantage of the new Aero interface when the OS is released. We're letting people reserve their copies now so they won't have to keep checking the news and listening to the speculation – we'll be keeping them informed throughout the entire process."
Windows Vista is slated to come out with five commercially available versions, which will be split into general categories. The Vista "home" line will include: Vista Home Basic, Vista Home Premium, and Vista Ultimate. The Vista "business" line will include Windows Vista Business and Windows Vista Enterprise. There is a sixth version, Windows Vista Starter, that will only be available on computers in emerging markets. All of the commercially available versions will include features like SafeDocs backup and restore, migration from XP, Desktop Window Manager (DWM), Fast User Switching (FUS), and Internet Connection Sharing (ICS). Windows Vista Starter and Windows Home Basic will not support the new Aero user interface.
About AtomicPark.com
Founded in 1998, AtomicPark.com has rapidly grown into a leading eTailer of software, video games, gaming consoles, consumer electronics, and computer hardware, serving a diverse range of customers both nationally and internationally. The company has access to more than $3 billion in inventory and six warehouses nationwide. AtomicPark.com offers its customers a seamless, one-stop online shopping experience for their software and gaming needs.
###