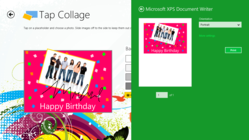 We believe people should do more with their photos than just keep them hidden in folders.
Charlotte, NC (PRWEB) January 31, 2013
SpiveyWorks introduced an update for Tap Collage, a Windows 8 collage maker app that lets people arrange photos, handwrite on top of photos and print or share via social networks. Printing and handwriting are new features that weren't available before.
"We believe people should do more with their photos than keep them hidden in folders. With digital cameras and large storage devices we know people have tons of photos and we want to bring those out into the world and put them in front of family and friends. A great way to do that is give people the ability to handwrite personal messages on their photos using Tap Collage for Windows 8," said Michael Spivey, SpiveyWorks CEO.
The Tap Collage Windows 8 app has a free online collage maker companion website that is available from a link inside the app. The website lets people upload their collages for anyone to see and comment on. People publicly share their fashion, hair, friends and other great moments.
There is also a companion Tap Collage Windows Phone app that has had over 30,000 downloads to date. There have been over 58,000 collages have been created using the mobile phone app since it was released.
The app has been available since the launch of Windows 8 and has seen accelerated growth since Christmas. It comes with built-in templates to get started quickly and if image place holders are not needed in a template then dragging the image off the canvas will keep it out of the final collage that is saved or shared.
SpiveyWorks Corporation is a small business based in Charlotte, NC that designs apps to empower individuals in their daily lives on whatever device they happen to be using.
Product or service names mentioned herein are the trademarks of their respective owners.