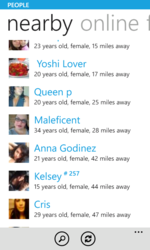 It marks a significant milestone for WNM Live.
Palo Alto, California (PRWEB) October 28, 2011
WNM Live™ from SynergeTech Solutions™ was updated today for the Windows Phone 7 platform. The location-based social network's latest update adds a number of new features that further enables WNM Live's users to meet and connect with other people nearby. Most significant of the new features is the ability to place and receive voice calls over a data connection (VOIP). This is the first application for the Windows Phone 7 platform to enable such functionality.
Many of the new features included in the update for the Windows Phone 7 application have also been added to the service's Facebook application, as well as the WNMLive.com website. For instance, users from any of the platforms will be able to call one another using the new voice calling functionality – mobile devices, PC, and Mac users are all included.
WNM Live's features now include:

Search profiles of other users based on criteria such as distance, interests, gender, or age
Find users looking for friendship, chat, networking, or romance
Send free text and picture messages with other users
Create a profile for yourself, complete with photos
Read, contribute, or comment on a public local stream of group conversations
Send and receive free voice phone calls (VOIP) with users of any platform
Earn points, rank of the leaderboard, and exchange virtual gifts with other users
"This update to WNM Live is the most substantial update to the service we have made to date. It marks a significant milestone for WNM Live. We are starting to see significant user traction and are very excited to see things continue to accelerate as we launch native applications for Android later this year and for iOS in early 2012," said Brian Hamachek, the Founder and CEO of the parent company, SynergeTech Solutions.
WNM Live is the only app for Windows Phone 7 that allows users to meet new people and interact based on their location. The free application shows you other users near you that share your common interests. When a user finds someone they are interested in, they can send free text and picture messages and now can also make free voice calls over a data connection. All of this can be done while remaining as anonymous as the user chooses.
The Windows Phone 7 application has been the recipient of numerous awards, including 2nd place in Microsoft's 1st annual Windows Phone 7 App Challenge that took place in Los Angeles, CA during the Microsoft Worldwide Partner Conference in June of 2011. WNM Live is free and has over 350,000 users. The update can be downloaded from the Windows Phone 7 Marketplace or from the WNM Live website.
About WNM Live and SynergeTech Solutions, Inc
WNM Live is a location-based social network that introduces users with new people nearby that share common interests. The service is available at http://www.wnmlive.com and has applications for the Windows Mobile and Windows Phone 7 mobile platforms, as well as a Facebook application.
SynergeTech Solutions, Inc is a privately held California corporation that formed in June of 2009 and incorporated in May of 2010 with the goal of creating innovative mobile products that help people connect both digitally and in the physical world. The company strives to create forward-thinking products that are fun and easy to use while providing unprecedented levels of functionality. SynergeTech Solutions is located in Palo Alto, CA.
For more information please visit synergetechsolutions.com or contact: VP of Marketing, Nina Dalal, nina(at)synergetechsolutions(dot)com.
###