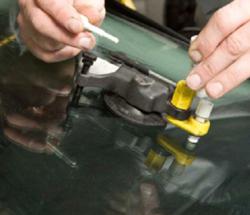 The windshield is much more than just a place for your windshield wipers to rest.
San Leandro, CA (Vocus/PRWEB) March 16, 2011
Bay Area Auto Glass in San Leandro has performed Bay Area windshield repair and replacement for the last five years. Recently, they have seen an increase in windshield repairs due to "fix-it" tickets after being pulled over for a cracked windshield. Their inexpensive mobile service makes it easy to avoid traffic tickets and make the vehicle safer.
"It's a shame because the cost of having a vehicle's windshield replaced is often less than $120," said Julio Jimenez of Bay Area Auto Glass. "That's far less than the costs of a traffic fine and a whole lot less than the worst case scenario."
The California Vehicle Code, Section 26710 states, "It is unlawful to operate any motor vehicle upon a highway when the windshield or rear window is in such a defective condition as to impair the driver's vision either to the front or rear."
If an officer finds a windshield or rear window to fail with compliance to this code, a fine associated with a "fix-it" ticket may be issued. Additionally, the driver must conform to the code requirement within 48 hours of the issued ticket.
California Highway Patrol Officer Anthony Carreiro says that many people believe it is not unlawful to drive with a cracked or broken window. But the truth is that a cracked windshield is reason enough to pull a driver over for a traffic violation.
"Although sometimes minor, the crack or chip can quickly spread due to weather or road conditions, creating unsafe driving conditions by impairing the vision of the driver," said Officer Carreiro.
Jimenez of Bay Area Auto Glass urges drivers who have a damaged or cracked windshield in the Bay Area to repair it or replace it immediately to avoid further financial costs associated with a fix-it ticket and impaired vision.
"The windshield is much more than just a place for your windshield wipers to rest," said Jimenez. "It's a protective barrier. Not only to keep things from flying into the car, but also from flying out."
For more information about windshield repairs or any of Bay Area Auto Glass's services, call them at (510) 606-9135 or visit them on the web at http://www.autoglassrepair-bayarea.com.
About Bay Area Auto Glass
Bay Area Auto Glass offers Bay Area windshield replacement and repair services for automobiles with damaged or cracked windshields. They provide mobile Bay Area windshield replacement in the Greater East Bay Area, including same day mobile services for all auto glass services. Bay Area Auto Glass also services any side or rearview mirrors and window regulators that drivers may have.
###