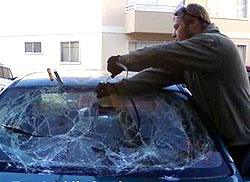 Driving around with a damaged windshield can be very dangerous
Redwood City, CA (Vocus/PRWEB) May 17, 2011
Many people agree unaware that a crack or other damage to a windshield can cause a car to be unsafe to drive because it not only obstruct a driver's vision, it can also leave the car more vulnerable to structural damage in the event of an accident.
"Driving around with a damaged windshield can be very dangerous," says Ryan Samford, owner of Peninsula Auto Glass, a full-service mobile San Mateo windshield repair and replacement service. "The windshield protects you from the outside, so you want it to be as strong as it can be."
The windshield of a vehicle is a reinforced support structure. If it has a large crack and the car gets into an accident, the roof loses a substantial amount of support. And when an airbag deploys, it usually expands toward the windshield first. A compromised windshield might affect the airbag's effectiveness.
Samford urges all drivers with cracked windshields to replace them immediately for their own safety. To make it easy and quick, Redwood City windshield repair and replacement company Peninsula Auto Glass offers mobile repair service to over 20 Bay Area communities. Peninsula's technicians travel to each customer's location at their convenience to perform scheduled or same-day windshield replacement and repairs on all makes and models of cars.
Peninsula Auto Glass makes sure that their visit is convenient for the customers by picking a good time for both parties to drop by. They feature a lifetime warranty on their workmanship for every job they do and are proud to stand by their products and expertise. Get repairs or replacements done right the first time.
For more information about the dangers of a damaged windshield, or for any of Peninsula Auto Glass' other offers or services, call them at (650) 646-9043 or view them on the web at http://www.sfpeninsulaautoglass.com.
About Peninsula Auto Glass
Peninsula Auto Glass is a full service mobile Palo Alto windshield repair shop specializing in everything from windshield repair in Redwood City to auto glass in San Mateo. Peninsula Auto Glass serves the city of San Francisco and the Peninsula cities of Half Moon Bay, Palo Alto, Redwood City, San Jose, Mountain View, Atherton, Pacifica, Atherton, Pacifica, Saratoga, Brisbane, Millbrae, La Honda, San Carlos, San Mateo, Santa Clara, Menlo Park, Santa Cruz, Clear Lake and Belmont.
###