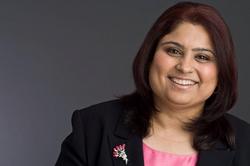 (PRWEB) May 21, 2010
Introducing Winds of Change with Jivi hosted by Jivi Khehra, a leadership and organizational development consultant based in Surrey, BC. Armed with an MBA in Leadership, over 20 years of experience in business, and a natural passion for exploring the world and connecting people to their innermost passions, Jivi takes viewers on a journey of discovering how to find work-life balance and purpose in the everyday.
Jivi interviews amazing guests ranging from industry experts and "your next door neighbour"…anyone who regularly does conventional things in unconventional ways, and embraces the everyday. The program explores ways to deal with the changes occurring around us in business, life, spirit, body, technology, love, and leadership.
Highlights of recently aired topics:

Core values: How to turn your personal passions from idle thoughts into real action that drives your decisions in the workplace and in life.
Creativity and leadership: Learn how concepts in jazz and art can help you build teams and leadership both personally and professionally.
Conflict: Believe it or not, you can turn conflict into joy.
Strategy and compassion: Can these two co-exist happily in the workplace?
Authenticity: How real do you think you are? Really are?
Manology: Masculinity in the 21st Century
Leadership: Learn how the way of horses can make difference in effectively leading your team or organization.
Get ready to be inspired. Get ready to celebrate the possibilities of change.
Winds of Change with Jivi airs Saturdays at 12 Noon on KVOS. Check your local listings.
Jivi Khehra: "It's amazing that the world we live in is so dependent on change for its very survival, and yet, we do not take the time to understand how to deal with it. You have to lead yourself before you can lead others."
Originally from India, Jivi is a seasoned business professional with over 20 years of experience in organizational development and leadership. She has been a board member of the BC Organizational Development Network, a mentor for the Women's Forum for Entrepreneurs, and a writer for South Asian Women's Magazine. Jivi has also been a featured guest on "Chai Time" and "Perspectives". Read about her Spiritual Journey on Jivi's Journal.
Twitter: windsofchangeTV
Facebook: Winds of Change with Jivi
###