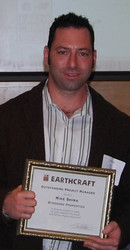 Where Life's a Breeze.
(Vocus) March 18, 2009
Atlanta-- Windsong Properties' Mike Shina was recently recognized as an Outstanding Project Manager by the Southface Energy Institute and The Greater Atlanta Home Builders Association. Each year, the EarthCraft House Awards honors builders, developers, renovators and manufacturers that are dedicated to protecting the environment through sustainable design and construction of homes. The Outstanding Project Manager award is presented in recognition of excellence in building and superior leadership in promoting the EarthCraft house program. All EarthCraft homes are Energy Star certified, and are designed to be the most high performance, durable, and resource-efficient homes you can buy. Demonstrating their commitment to minimizing their environmental impact, Windsong Properties builds only EarthCraft-certified new homes at their Woodstock active adult courtyard community, Somerset.
EarthCraft House is a voluntary green building program that serves as a blueprint for healthy comfortable homes that reduce utility bills and protect the environment. Nominees and winners of the annual EarthCraft House awards are selected by a team of EarthCraft House judges.
Shina was selected as an Outstanding Project Manager because he directly manages the construction of the EarthCraft-certified new homes at Windsong's Somerset community. Shina, a Certified Age-in-Place Specialist, implements responsible, sustainable building standards and pursues third-party recognized best practices in every aspect of construction. Shina is committed to new home building that leads to improved energy efficiency, sustainability and air quality.
Windsong Properties builds award winning, EarthCraft-certified detached, courtyard homes for adults 55 and older at Somerset. All Windsong homes are EasyLiving certified; the spacious floorplans are designed for accessibility, thus allowing homeowners to enjoy their homes, even if their lifestyle needs require change. "We put every effort into creating homes that meet the needs of our clients both now and in the future, and doing so in an environmentally responsible way," said Steve Romeyn, Managing Partner of Windsong Properties. "We are very proud of Mike's hard work, attention to detail and commitment to building to EarthCraft standards."
Windsong Properties currently has homes available at The Villas at Blackberry Run, in popular master-planned community Seven Hills in Dallas, Ga., and Somerset located in Woodstock, Ga. The Villas at Blackberry Run features 78 homes priced from $199,900 while Somerset features 58 ranch courtyard homes priced from $278,900. For more information on either of these beautiful communities, visit http://www.windsonglife.com.
About EarthCraft House
EarthCraft House is a green building program of the Greater Atlanta Home Builders Association developed through a partnership with Southface Energy Institute, government and industry leaders. The voluntary program serves as a blueprint for healthy, comfortable homes that reduce utility bills and protect the environment. Since EarthCraft's inception in 1999, more than 450 builders have become builder members and more than 7,150 homes in the Southeast region have been certified to EarthCraft standards. For more information, visit EarthCraft House at http://www.earthcrafthouse.org.
About Windsong Properties
Locally owned, Windsong Properties was founded by Mark Carruth and Managing Partner, Steve Romeyn. The two bring more than 50 years of local building experience to Windsong Properties, "Where Life's a Breeze." As empty nesters themselves, Mark and Steve have first hand knowledge of the desires of active adults and are passionate about creating communities and homes for empty nesters. Every decision made at Windsong Properties from the design of the community and its amenities to the award winning floor plans, and the unique customer service approach is target to the 50-plus, empty nester group. Windsong Properties earned the highest honor from the Certified Professional Home Builders association in 2007 and 2008 when it was awarded the Customer Satisfaction Award. Windsong Properties invites you to visit one of its communities and see for yourself just how easy living the Windsong Lifestyle can be. For more information, call 770-516-3409 or visit http://www.windsonglife.com.
Flammer Relations, Inc.
Amanda Winters: 770-383-3360x27
http://www.FlammerPR.com
###