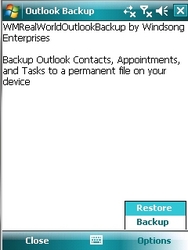 Brookshire, TX (PRWEB) September 16, 2010
WM Real World Outlook Backup has just been released by Windsong Enterprises featuring one-click backup / restore for Windows Mobile Outlook data to an XML file that resides in permanent storage on the phone. This means these operations run quickly and the phone does not have to be connected to the internet or store personal information on the internet. After adding a new appointment, contact, or task a backup can be created immediately in any location. This facilitates keeping a current backup. In the event of data loss, recovery is simple and quick.
Sandra Sears of Windsong Enterprises discusses the inspiration for developing this application.
"Recently I travelled to a family reunion and took a lot of pictures and entered several new contacts into my phone. When I got home I connected to my PC to upload the pictures and ActiveSync automatically deleted these new contacts! It took considerable time to rebuild the data on my phone. That's when I decided I needed a way to prevent that from happening in the future."
Progress is shown in a textual format as the selected option runs. When the backup is complete, the user may take the Close option to exit the program. The backup file is stored in permanent storage in the phone in a folder called WMRealWorldOutlookBackup which is located under the Application Data folder. No data card is required to be installed. The name of the file is OutlookDataBackup.xml.
The attached demo video shows how quick and easy it is to protect Windows Mobile Outlook Data.
WM Real World Outlook Backup is available at the Windows Mobile Market Place .
For more information please visit this web site
###