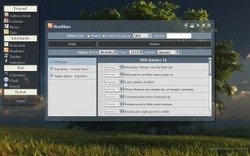 Looks awesome with the combination of Chrome OS - Y.Yanagisawa, CEO of Pankaku Inc
Tokyo, Japan (PRWEB) April 29, 2010
Windware Solution announces the release of DeskPortal, the next generation remote access application platform. As part of the launch, DeskPortal is offering new users a completely free plan to use the service.
Using the built-in applications, DeskPortal acts as an alternative to traditional desktop software applications, allowing users to remotely access their data and documents from any location with Internet access, whose characteristic is also known to be called as Web Desktop and WebOS. DeskPortal saves users from having their data split into various locations, be it their home computer or their office computer, thus avoiding the need to manually synchronize data between them. DeskPortal also saves user's information in the event of a hardware failure or computer crash, ensuring data is kept safe and secure on a remote server.
Designed for ease of access from multiple computers, users simply login to the secure DeskPortal Web site to retrieve their data. This means users do not need to install or maintain any new software to use the applications, ideal for those who are not authorized to install software on a computer. As the application is accessible through the Internet, user's data may be accessed on a PC, Mac or Internet-enabled mobile device. A user can start writing a memo on their home PC and then finish it after arriving at the office on another computer.
DeskPortal offers a wide array of applications that are simple to use and navigate for both novice and experienced users. Current applications include an email reader, news headline reader, address book, memo pad, calendar/scheduler, browser bookmark manager and more. While still in the beta testing stage, Windware Solution continues to develop new DeskPortal applications based on user demand.
A developer program is being prepared as well and will launch after DeskPortal completes the beta testing phase. Once launched, third party application developers can create applications on DeskPortal and earn a profit by selling their applications for subscription use or a one-time fee. Free applications from developers are also welcome.
To register for DeskPortal completely free, or to watch demo videos, view screenshots, and test the application in a live environment, please visit http://deskportal.com/.
Convenience, availability and safety is the aim of DeskPortal.
# # #