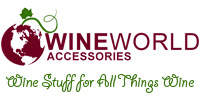 The accessories sold by Wine World Accessories are the most beautiful, advanced and sophisticated on the market
Miami, FL (PRWEB) November 09, 2012
Wine World Accessories, the leading Wine accessories provider, is now offering a super Christmas offer – free shipping for all orders over $49. Wine World Accessories has also staged its new exquisite collection of Wine Stuff/accessories including some of the most unique Wine Accessories and gadgets such as purse holders, wine stain removing spray, fancy models of aerators and stoppers. Their large selection provides wine lovers a great choice of wine accessory equipment to choose from. As the online store offers an array of wine stuff, it really is just a matter of finding the right accessory for you.
Some of the company's best-selling Wine Bottle Accessories are aerators, wine bottle stoppers (glass stoppers and vacuum stoppers) and other unique Wine Gadgets. Wine World Accessories is also known for its great collection of corkscrews, which are also one of the most important accessories as they are used to remove corks from wine bottles. The corkscrew's worm is the pointed metallic helix that attaches to the wooden handle and screws into the cork. Once the corkscrew has been firmly inserted into the cork a vertical pull releases the cork from the wine bottle freeing the wine for your enjoyment.
The accessories sold by Wine World Accessories are the most beautiful, advanced and sophisticated on the market. They combine functionality with beauty and finesse. The company also maintains an easy to navigate, aesthetically pleasing website filled with information on the products they sell. The site is very simple in layout and easily accessed. The company updates the information regularly, (regarding the accessories/products that it sells) making it easy for customers to make prudent purchasing decisions. Wine World Accessories follows simple and transparent terms of service and payment, which has reduced the downtime (i.e. the time taken to process a single order) considerably, thus promoting overall efficiency.
Wine World Accessories always strive to bring the enthusiast the best products at discount prices with fast shipping. Visit Wine World Accessories for an enjoyable online accessory shopping experience. Their selection of products includes aerators, stoppers, and gifts as well as other unique accessories. Their website was developed to make the online shopping experience enjoyable and hassle-free by making it easy to find and purchase the gifts wine enthusiasts really want. To know more about the online store log on to http://www.wineworldaccessories.com