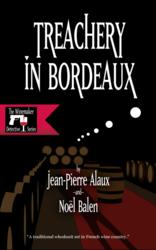 Here, the wine is served up with money, duplicity, crime, and jealously—all the ingredients needed to distill a fine detective series.
New York, New York (PRWEB) October 09, 2012
Le French Book is giving away a trip to France and French wine to kick off the release of Treachery in Bordeaux, by Jean-Pierre Alaux and Noël Balen, the first in a 20-book series that is a hit on television in France. "It is set in vineyards and has an Epicurean hero, embodying that French something people love, while shedding a present-day light on time-honored images of the country," says Le French Book founder and translator Anne Trager. "That is why we are giving readers a second chance to enter sweepstakes to experience both the country and its wine." This new publisher is out to attract attention with big prizes and good reads.
In Treachery in Bordeaux, winemaker Benjamin Cooker and his sidekick Virgile Lanssien navigate the underworld of this global luxury industry, where the wine has aromas of deceit and intrigue. New York Times bestselling author William Martin calls it "a great mystery about wine, and winemaking, and the whole culture of that fascinating world." French actor Pierre Arditi says he loves portraying Benjamin Cooker because the character's sensibilities, culture and personality help him solve the cases. Cooker is an iconoclast, unforeseeable, stubborn, guided by his instincts, feelings and his memory of aromas and savors.
This first story is set in modern-day Bordeaux, where there are few wine estates still within the city limits. The prestigious grand cru Moniales Haut-Brion is one of them. When some barrels end up contaminated, the world-renowned winemaker-turned-gentleman-detective Benjamin Cooker starts asking questions. Is it negligence or sabotage? Who would want to bring down this esteemed vintner? Cooker and Lanssien search the city and the vineyards for answers, giving readers an inside view of this famous wine region. Here, the wine is served up with money, duplicity, crime, and jealously—all the ingredients needed to distill a fine detective series.
Bestselling author Peter May adds that "Treachery in Bordeaux is a fine vintage, best consumed slightly chilled, and never alone." Clearly, this is "the perfect book for people who might like a little treachery with their evening glass of Bordeaux, a little history and tradition with their Merlot."
At the Treachery in Bordeaux website, people can:

Win a trip to France, and stay five nights in the beautiful bed and breakfast Garonnella overlooking the Garonne River.
Win delicious samples of France's best vineyards (to be enjoyed responsibly, of course), thanks to Vignobles & Signatures.
Win a number of other books and prizes.
The launch kicks off on October 9. It's for a limited time only.
About Le French Book
Le French Book is a New York-based independent, digital-first publisher specialized in great reads from France. It was founded in December 2011 because, as founder Anne Trager says, "The recent explosion in e-reader ownership provides a perfect medium to introduce readers to some of these fantastic French authors." Anne has lived in France more than half of her life, has 26 years of experience in the translation business and 15 in publishing. Co-founder Fabrice Neuman is French and the company's tech consultant. He is one of France's foremost proponents of e-books and one of the first French journalists to write about them in the mid-1990s. The core team also includes the American translation editor Amy Richards, who is based in Ohio and has a long, award-winning career in writing and editing.