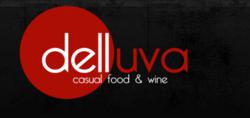 So grab those closest to you, get ready to enjoy yourselves to the fullest and join us at Dell'Uva, Saturday, Dec. 31, 2011, to celebrate the conclusion of another great year
San Francisco, CA (PRWEB) December 23, 2011
Dell'Uva, a San Francisco wine bar invites everyone to join them this New Year's Eve before the Mayan-predicted end of the world on Dec. 21, 2012.
"So grab those closest to you, get ready to enjoy yourselves to the fullest and join us at Dell'Uva, Saturday, Dec. 31, 2011, to celebrate the conclusion of another great year," Juri McCorkle of Dell'Uva said.
In honor of this great prophecy, special Mayan delicacies will be passed around throughout the evening at both of Dell'Uva's Green Street and Mission Street locations. Come dressed to impress as Dell'Uva hosts an elegant and glamorous evening for an amazing price. With more than 20 wines at only $6 per glass and more than 10 different dishes under $10, guests can party all night. Dance the night away with great beats and enjoy a complimentary champagne toast to ring in the New Year.
For those who have too much to do on New Year's Eve, get ready to keep the party rolling and join Dell'Uva's first Pajama Jamie Jam. The wine bar suggests its signature Endless Mimosas and Recovery Buffet Brunch to get its guests on their feet to rock the rest of the New Year. Extra surprises await guests who come in with the same clothes from the night before or roll out of bed with their PJs still on.
For more information on the New Year's Eve event or Dell'Uva, call 415-766-0243, view the wine bar on the web at http://www.delluvasf.com, or visit two San Francisco locations at 3235 Mission St. and 565 Green St.
About Dell'Uva
Dell'Uva is a San Francisco wine bar that features a stylish and comfortable environment, and a unique collection of fine wines from throughout California and Europe. Enjoy a selection of fine Italian wines with any delicious appetizers. Dell'Uva offers its guests the chance to retreat to a place where great food and fine wine work in harmony.
###