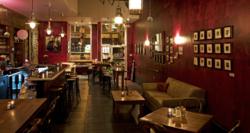 Though primarily expressed with micron pens on paper, or acrylic paints on canvas, Nigel increasingly uses digital tools to enhance and display his work
San Francisco, CA (PRWEB) April 19, 2012
San Francisco wine bar, Blush! inspired by great European wine bars, is now featuring live music every Tuesday and Thursday night from 7 to 10 p.m., as well as French Improv theater every Monday. In addition, Blush! is proud to be exhibiting a collection of sketches and paintings by Nigel Sussman from now until June 6.
"Though primarily expressed with micron pens on paper, or acrylic paints on canvas, Nigel increasingly uses digital tools to enhance and display his work," Jeff Pauly of Blush! Wine Bar said. "Blush! is proud to present the work of Nigel Sussman."
Sussman draws everyday on a 7-by-10 inch sketchbook and then documents the best of his work on his blog, nigelsussman.com/sketchblog, which now has more than 700 images since his start in 2008. Sussman grew up in Maryland and earned an illustration BA from California College of the Arts.
"Nigel's current work is intricate and whimsical and reflects his love for food, animals, music, and the complexity of elaborate machines and environments," Pauly said.
In addition to art, Sussman is a very active person who also makes music, paints, codes, designs, hikes, cooks, travels and enjoys walking around San Francisco.
For more information about the live music, check out Blush! Wine Bar's music calendar at http://www.blushwinebar.com/live_music__blush.
For more information about the current exhibition or any of Blush! Wine Bar's products or services, call 415-240-4753, view the SOMA wine bar on the web at http://www.blushwinebar.com or visit 476 Castro St. in San Francisco.
About Blush! Wine Bar
In the heart of the Castro, traiangulated between the neighborhoods of Mission, Hayes Valley, Noe Valley, Blush! Wine Bar invites one and all to savor an experience that is inspired by the greatest wine bars of Europe. Amidst a cozy décor, Blush's trained staff will guide guests through a selection of around 50 wines offered by the glass, which in reality is only a small part of their extensive wine list. To accompany the wines, Blush! offers flavorful and authentic cuisine, such as antipasti, small plates and entrees, created according to the certified art of Chef Martin. Blush! Wine Bar is strategically placed to offer its brand of sophistication to the San Francisco, Castro, Mission, Noe Valley, Hayes Valley and SOMA areas.