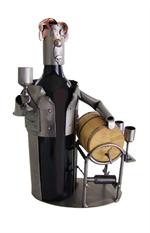 (PRWEB) August 31, 2012
WorldToHome.com's metal wine caddy holders continue to be a hit with a huge variety of customers. To continue in the success of these caddies, WorldToHome has added nearly a hundred new metal wine bottle holders to its various categories. These bottle holders range in style from professional and sports caddies to hobbies and animals. Each metal wine caddy is handmade in Germany to exacting standards using only the finest quality recycled steel and copper. Not only are they pleasing to look at, but their recycled nature is good for the environment.
In addition to the new wine bottle caddies now available, WorldToHome has also stocked brand new moving pendulum clocks from the same manufacturers as the ever popular metal wine bottle holders. These clocks are also made from quality recycled parts, namely steel and copper. Crafted in stylistic shapes, from the ever popular dog and cat to chefs and cows, there's wagging tail clocks here for everyone. Due to their handcrafted nature, not all clocks are exactly alike, making each one truly unique in both design and execution.
World To Home has reorganized their categories to make browsing for products easier and more efficient. Categories on WorldToHome.com are now grouped into distinct sections such as accent home decor accessories, furniture & floor, lighting, outdoor, and wall decor and mirrors. Also included are some of the featured categories such as antique / vintage products, unique products and gadgets, model planes, gifts, globes and clocks.
The holidays are coming up quickly, and WorldToHome has gotten an early start with many brand new unique Christmas gifts. GeDeBrekht is known throughout the world for their superior craftsmanship, and WorldToHome now carries even more GeDeBrekht hand carved Santas. Each Santa statue is meticulously carved and painted by the best artists around the world. Truly a Christmas classic, these Santas will be the centerpiece of any household Christmas decoration.
Combined with the very fine GeDeBrekht hand-carved santas, WorldToHome has added a slew of other great Christmas gift ideas. LED Christmas acrylic figurines are a new and innovative way to decorate for the holidays. Displaying common Christmas themes, from the nativity to Santa on his sleigh, these acrylic sets light up with powerful LEDs in a variety of colors. Excellent as tabletop decorations, these acrylic sets make for a very unique way to decorate for the holidays.
About World To Home.com:
WorldToHome.com is the premier retailer of fine luxury unique home decor accents, accessories and furniture. With thousands of unique home decor accessories, World To Home brings the worlds home decor products to your doorstep. Featured products include Mova Globe, lighted branches, reproduction antique phones for sale, metal wine bottle wine caddies, birdhouse mansions, and more. For more information visit WorldToHome.com.