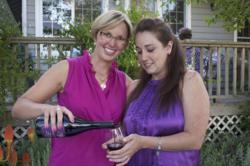 Clarisse makes learning about the wine as much fun as drinking it
San Rafael, CA (PRWEB) February 28, 2012
The Right Blend of San Francisco will begin hosting its wine education classes on March 14 and will offer a wine class every second Wednesday of the month at Google, located at 345 Spear St. in San Francisco.
"Clarisse makes learning about the wine as much fun as drinking it," said Lucien Chan, a long-time client.
Clarisse F. Kostrzewski, CEO and Founder of The Right Blend, received numerous requests to offer wine education classes. Kostrzewski and her team are now ready to feature the classes to the public.
The wine education series will offer attendees a detailed overview of different wine varietals through fun and informative presentations and tastings, food and wine pairings, blind tastings, and other experiences, such as hands-on activities like blending seminars.
Attendees will acquire a greater ease of navigating wine lists, making smart wine selections when purchasing wine, and simply a general confidence in speaking more confidently about wine.
"With her incredible knowledge of wine, fantastic people and presentation skills, and comfort sharing her secrets of wine manufacturing and evolution, my guests were able to enjoy a series of highly entertaining and educational events. Clarisse F. Kostrzewski is simply a joy to work with, as exemplified in her attention to detail, passion for people and wine, and her true calling as an oenophile. Google looks forward to working with The Right Blend and Clarisse again, as she inspired quite a following amongst our guests of employees and local users. They all keep asking: when is Clarisse coming back?" Ashley Hayes of Google said.
For more information about The Right Blend and its wine education classes, call 415-722-3639 or view the company on the web at http://www.trbevents.com.
About The Right Blend
San Francisco's event planner, The Right Blend offers personalized events and wine education experiences that bring the enjoyment of wine to corporate events and social gatherings of all sizes and personalities.
###