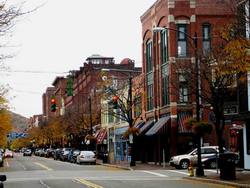 Corning is a thriving community in large part due to the arts
Finger Lakes Wine Country, NY (Vocus) October 7, 2010
Finger Lakes Wine Country Tourism Marketing Association in partnership with the Steuben County Conference and Visitors Bureau, ARTS of the Southern Finger Lakes, and Corning's Gaffer District proudly announce Corning, N.Y. once again was named in the Top 25 Arts Destinations by American Style magazine readers. Corning was ranked 11th in the small cities category.
"We are always honored when our one of our communities or businesses wins an award. This accolade is especially meaningful because Corning was selected by the readers of American Style, the people who truly love and appreciate art in all forms. It reflects on the wonderful talent of our local artists who add to our quality of life. It also moves our destination up in the minds of potential visitors who wish to visit a great arts destination," said Peggy Coleman, President of the Steuben County Conference & Visitors Bureau. "We hope this designation will encourage more people to come explore their own artistic talents right here in Corning and Finger Lakes Wine Country."
Within Steuben County and at the heart of the city of Corning is the historical downtown arts-centric Gaffer District. "It's exciting to continue to be rated in the top 25 small cities in American Style. It underscores the significance of the arts as an integral part of the Corning experience. It's an important driver for new and repeat visitors which is an essential element of our local economy," added Coleen Fabrizi, Executive Director of Corning's Gaffer District.
The ARTS Council of the Southern Finger Lakes works to enhance the cultural arts for residents and visitors alike through advocacy to raise awareness and increase participation, and optimize resources. This recognition from American Style readers is certainly important to that effort. "Corning is a thriving community in large part due to the arts," commented Ginnie Lupi, Executive Director of The ARTS. "Visitors and residents have so much to choose from - glass and other visual art, music, dance, theatre, and more. Corning's artists and arts and cultural organizations contribute greatly to our local economy, and bring a quality of life that rivals most larger cities."
With a variety of galleries, antique shops, and specialty retailers, Corning is also home to two world-class museums. The Corning Museum of Glass offers visitors a hands-on and inside look into the fascinating world of glass. Visitors to The Corning Museum of Glass will experience the world's best collection of glass art and history through the exploration of 3,500 years of glassmaking history and over 45,000 glass objects.
Visitors to Corning can also experience and extensive collection of southwestern and Native American art at the Rockwell Museum of Western Art. "The board and staff of the Rockwell Museum of Western Art are proud to contribute to the overall arts and cultural experience of Corning and are delighted to be a part of this national recognition through American Style magazine. We take a great deal of pride in our Museum experience and have great enthusiasm to share our world-class American Western and Native American art collection with our visitors," said Beth Manwaring, Marketing and Communication Specialist for the Rockwell Museum of Western Art.
Corning is located within Finger Lakes Wine Country, the world's most beautiful wine region according to Budget Travel readers*, and plays an integral role in many vacations to the region. "Visitors to Finger Lakes Wine Country are looking for a world-class experience and that includes arts and culture exploration," stated Morgen McLaughlin, President of Finger Lakes Wine Country. "Corning offers the opportunity to visit world-class museums, local artist galleries, unique shops and boutiques, all in a charming downtown atmosphere. We thank the readers of American Style for acknowledging Corning among the Top 25 small city art destinations."
For more information on Corning's Gaffer District visit http://www.GafferDistrict.com. For information on visiting Steuben County visit http://www.CorningFingerLakes.com. To begin planning your escape to Finger Lakes Wine Country, including Corning, visit http://www.FingerLakesWineCountry.com
Finger Lakes Wine Country is one of the most affordable and beautiful wine country destinations in North America with three wine trails; over 100 wineries and over 400 unique things to do including shopping and dining experiences, world-class museums, and a local culture that is both warm and welcoming. For further information on this year-round destination visit http://www.FingerLakesWineCountry.com, http://www.Facebook.com/FingerLakesWineCountry, http://www.Twitter.com/FLWineCountry, or call 800.813.2958. Download the free Finger Lakes Wine Country mobile travel app for iPhone, iTouch, and BlackBerry at http://www.FLWC.mobi.
*Budget Travel readers named Finger Lakes Wine Country the "world's most beautiful wine region" in the 2010 Readers' Choice Awards poll. Finger Lakes Wine Country will be featured in the Readers' Choice issue of Budget Travel in October 2010. The Finger Lakes region was also named one of the top value destinations, second to the Dominican Republic.
###