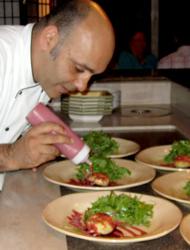 I can share with my audience some of the basics of cooking and empower them to go home and feel comfortable and confident to cook healthy meals from scratch
Milwaukee, Wi (PRWEB) October 31, 2012
Celebrity Chef Michael Feker of IL MITO Trattoria e Enoteca highlights the 2012 Wine and Dine Wisconsin event from celebrity judge to culinary presenter. Froedtert Hospital and the Medical College of Wisconsin Froedtert Health has chosen chef Feker to feature as their celebrity judge of the Firehouse/EMS Chili cook-off. Feker will also showcase his talents on the Chef's Stage for a gluten-free cooking demonstration.
Wine and Dine Wisconsin is held at the Delta Center located at 400 W Wisconsin Ave, Milwaukee, on Saturday November 10 - Sunday November 11, 2012. This event, known for it vast variety of local, seasonal flavors, features the cream of the crop of the culinary scene in Milwaukee. From 11 am to 2 pm on Saturday afternoon chef Feker will sample 16 different chili recipes and judge aroma, color, taste, aftertaste and table showmanship.
"We first eat with our eyes so presentation is also a key element in my judging criteria," shares Chef Feker. "I will be looking for a chili that looks delicious, that has the most unique texture and aroma, with a robust but not overwhelming flavor. The winning chili should be a heartwarming dish that nourishes both the body and soul. I will also be listening to feedback from our Wine and Dine guests as they join me in tasting these Firehouse creations."
For his live cooking demonstration on Sunday at 1 pm, Chef Feker will present a healthy, gluten-free Mediterranean chicken stir fry recipe. "Gluten intolerance is not to be taken lighty. At my restaurant (IL MITO Trattoria e Enoteca), gluten-free does not mean flavor free," Feker explains. "I chose to present this recipe because it is healthy, it can be enjoyed by everybody. With this recipe, I can share with my audience some of the basics of cooking and empower them to go home and feel comfortable and confident to cook healthy meals from scratch."
About Chef Michael Feker
Milwaukee's celebrity chef Michael Feker is an accomplished culinary innovator with over 20 years of experience. He has studied abroad from Switzerland to the Royal Viking Cruise Line and has learned under the tutelage of renowned chef Roberto Gerometta. Chef Feker has owned restaurants in Los Angeles, Milwaukee and currently IL MITO Trattoria e Enoteca in Wauwatosa, Wi where he specializes in traditional Italian/Mediterranean cuisine, as well as performing as a culinary instructor, owning and operating CMFs School of Culinary Magic. With his vast knowledge of the chemistry of foods and ingredients, along with his global approach to cooking, classical French training, and world travels, chef Feker strives to get his guests back to the table through the kitchen, while creating healthy and passionate culinary experiences.
"I am delighted to share with you my love and passion for the fascinating world of the culinary arts. I work as an ambassador to those who wish to explore this world with me in my restaurant, IL MITO, my Culinary Studio, CMFs School of Culinary Magic and/or your kitchen tables! My mission is to inspire those who I have the privilege of cooking for, or with, to slow down, take a seat, and by all means, appreciate and be grateful for what's in front of them. I believe that enjoying a good meal doesn't have to be a complex, mind-numbing series of steps and approximations. It doesn't have to take hours and fortunes to deliver a meal you can be proud of and feel good about eating — a simple understanding of the basics and using fresh, pure, unprocessed ingredients is the majority of the battle," Feker enthusiastically explains.