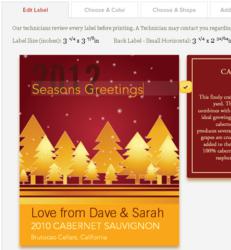 'The web is becoming less Flash friendly. Rather than allow this trend to erode our business, we chose to use it as an opportunity to offer something that exceeds anything else on the market,' said Richard Smith, Managing Director, Stoney Creek Wine Press
(PRWEB) November 28, 2012
In an era when internet standards are constantly changing, web-based businesses who do not wish to see a decline in revenue are being forced to adapt at an ever increasing pace. For Stoney Creek Wine Press, an online store that sells custom wine labels, this has meant a complete HTML5 redesign of its online label editor (formerly powered entirely by Adobe Flash), along with a completely redesigned Web 2.0 layout.
While Flash has long been the technology of choice for interactive media on the web, its use has seen a steady decline since early 2010 when Steve Jobs issued his public "Thoughts on Flash" letter, stating that Apple would not be providing support for Flash on its hugely popular iOS platform. For Stoney Creek Wine Press, abandoning Flash is only the first of many planned steps that will ultimately lead to creating a user experience that works seamlessly across multiple operating systems and browsers. The timing for this release was also essential since the demand for personalized Christmas wine labels as seasonal gifts is enormous at this time of year, and more people than ever are now using iOS devices as their only means of accessing the internet.
"The web is becoming less Flash friendly," said Richard Smith, Managing Director of Stoney Creek Wine Press. "Rather than allowing this trend to erode our business, we chose to use it as an opportunity to offer something that exceeds anything else on the market. With our new HTML5 powered label editor, we know that we've created just that."
The previous Flash-based label editor allowed only simple customization of text, with custom images such as photos and business logos needing to be added manually by a designer. With the new editor, customers can now create fully personalized custom image wine labels right inside their browsers. Additionally, users can now select from a variety of different color schemes, shapes, and sizes that are available for each label design that is supported. On the back-end, a full custom integration with production software ensures error free processing of every order that is received.
The new website and updated label editor was launched on October 25, 2012, arriving just in time for the 2012 holiday gift season. Custom Wine Source, the sister site of Stoney Creek which sells personalized wine bottles for weddings, corporate and Christmas gifts, as well as other special occasions, will be receiving a similar update in the first quarter of 2013. For more information, email info(at)stoneycreekwinepress(dot)com.