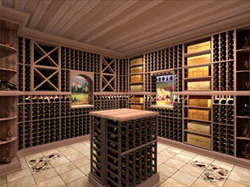 high. The racks may be stacked on top of one another to reach a height of 95 1/16
Cincinnati, OH (PRWEB) July 25, 2008
Wine Cellar Innovations announces the creation of their newest wine racks, the Vintner Series. Manufactured onsite by Wine Cellar Innovations, these semi-custom wine racks are crafted from Premium Clear Redwood and are 47 3/16" high. The racks may be stacked on top of one another to reach a height of 95 1/16", and multiple molding packages may be added to adjust the height up to 104 5/16". The racks range in price from $50 to $500 depending on style and bottle capacity.
The Vintner Series offers a wide variety of wine storage and wine display options, along with the ability to mix and match wine racking heights and styles. The varying rack heights and molding options can give the appearance that the Vintner Series is built into a room. In addition to unstained redwood, the Vintner Series is available in different stain options: classic mahogany, dark walnut, and midnight black. These wine racks also blend in well with existing décor, making them a suitable solution for incorporating wine storage into existing living spaces.
"The Vintner Series is a new and exciting brand for Wine Cellar Innovations. It offers the look of a customizable luxury product at a mass-produced price that is readily available," says James L. Deckebach, CEO and owner of Wine Cellar Innovations.
The wine racking is available now. Wine Cellar Innovations is currently accepting orders. For more information on the Vintner Series, visit Wine Cellar Innovations' website or call 800.229.9813. Free wine cellar design services are available if you would like the company to design a wine room for you. A 3D color design rendering of the racks is included with this release.
About Wine Cellar Innovations
Wine Cellar Innovations is the industry leader in the design and production of custom wine racks and wine cellars, and has been for over 20 years. The company is located in Cincinnati, Ohio and employs regional design consultants all over the country to provide customers with local service and exceptional quality. Their racks have been purchased and installed worldwide.
Additional press releases can be viewed in the company's online media pressroom.
###