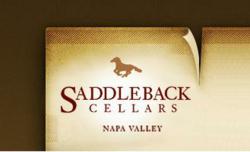 Oakville, CA (PRWEB) February 05, 2013
Saddleback Cellars, a small winery located in the heart of the Napa Valley wine region, is now featuring, for tasting and sale, its 2010 Old Vine Zinfandel for $38.
Nils Venge, owner and winemaker at Saddleback Cellars, has been making zinfandel since 1992. The majority of each vintage has come from zinfandel grapes grown on the floor of the Napa Valley near St. Helena. In 1994, an additional small lot of grapes came from the Monte Rosso vineyard in Sonoma, which is owned by the Martini Family. A touch of petite sirah, from old vines, has been blended in as well. The Saddleback Zinfandel has gained quite a reputation as a "monster Zin" and is in great demand. This wine has a track record of selling out within 90 to 120 days of its release.
Saddleback Cellars' zinfandel is always treated in 100-percent new American oak barrels. The winemaker's notes include aromas of cinnamon spice, black pepper, bramble, ripe dark cherries and fig, which are emitted from this wine's fragrant bouquet. This full-bodied wine has opulent, intense dried fruit characteristics with cinnamon spice on the back palate, and a long finish with velvety tannins.
Nils has earned a place in the halls of lore and tradition in the Napa Valley, where he is considered to have the biggest hands and one of the best winemaking instincts. Highly valued for his decades of experience and success, Nils also serves as a consultant to some of Napa Valley's most prestigious wineries, such as Plumpjack, CADE, Odette and Keenan Winery. He continues to receive awards and high scores from reputable wine journals at his winery, Saddleback Cellars.
The release of Saddleback 2010 Old Vine Zinfandel comes just in time for the 23rd Annual ZAP
Festival.
For more information about any of Saddleback Cellars' wines, wine club, services or events, call 707-944-1305. View the winery on the Web at http://www.saddlebackcellars.com or visit 7802 Money Road in Oakville. Saddleback Cellars is open for tasting seven days a week, offers indoor/outdoor tastings, and picnicking from 10-4 p.m. by appointment.
About Saddleback Cellars
Saddleback Cellars is a Napa Valley winery located in the city of Oakville. Owner and winemaker Nils Venge, "King of Cabernet," produces amazing wines from the grapes grown on the estate vineyard, including cabernet sauvignon, chardonnay, pinot blanc, pinot grigio, viognier, merlot and zinfandel. Saddleback Cellars also runs a tasting room for the public to experience its wines.