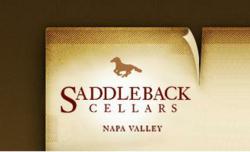 Imagine a spinach and mushroom lasagna with an heirloom tomato sauce fresh from the garden!
Oakville, CA (PRWEB) October 04, 2012
As a wine tasting vineyard in the Napa Valley wine region, Saddleback Cellars is getting ready to send its third wine club shipment this October, which includes the 2008 Barrel Select Merlot, the 2009 Barrel Select Charbono and the 2011 Barrel Select Vermentino.
The 2008 Barrel Select Merlot comes from the Oakville Estate in Napa Valley and exhibits richness and depth. The 2008 vintage is 100-percent merlot, with only 72 cases of the wine made, and costs $45. Perfect food pairings include lamb chops, chicken, roasted pork and grilled filet minion. Full-flavored cheeses, such as blue, camembert, cheddar and dry jack, also pair especially well with this wine.
The 2009 Barrel Select Charbono comes from Calistoga at the Frediani Vineyard. This medium-bodied wine shows typical flavors of blueberries, pomegranates, black current and cassis. Made from 100-percent charbono, only 72 cases have been produced and cost $45 each. Foods that would pair with this wine are fattier sides of protein like grilled and roasted meats or game birds. Earthier flavors found in fennel, spinach and mushrooms go well, too.
"Imagine a spinach and mushroom lasagna with an heirloom tomato sauce fresh from the garden!" Jessica Pfeufer of Saddleback Cellars said.
The 2011 Barrel Select Vermentino is from Los Carneros, Mahoney Vineyards, and showcases a refreshing and crisp finish. With 100-percent vermentino, only 87 cases of this wine were produced. It costs $24 per bottle. Peking duck, BBQ spareribs and aged cheeses, such as parmesan and pecorino, pair well with this wine.
For more information about the Posse Wine Club or any of Saddleback Cellars' products or services, call 707-948-6371, view the winery on the Web at http://www.saddlebackcellars.com or visit 7802 Money Road in Oakville.
About Saddleback Cellars
Saddleback Cellars is a Napa Valley winery located in the city of Oakville. Owner and winemaker Nils Venge, "King of Cabernet," produces amazing wines from the grapes grown on the estate vineyard, including cabernet sauvignon, chardonnay, pinot blanc, pinot grigio, viognier, merlot and zinfandel. Saddleback Cellars also runs a tasting room for the public to experience its wines.