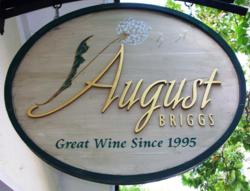 This is the first time all four of our pinot noirs are available upon release and will be available at our new tasting room in downtown Calistoga
Calistoga, CA (PRWEB) June 16, 2012
An employee-owned winery located in the Napa Valley city of Calistoga, August Briggs Winery is dedicated to producing very limited quantities of superb single-vineyard wine. As one of Napa Valley's best wineries for unique varietals and wine tastings, August Briggs Winery is proud to announce the release of its 2010 Pinot Noirs and 2010 "Old Vine" Zinfandel as part of its new summer wine releases.
"This is the first time all four of our pinot noirs are available upon release and will be available at our new tasting room in downtown Calistoga," Matthew Gacso of August Briggs Winery said. "An assortment of the new releases will be poured in the tasting room throughout the month, and the zinfandel is our first wine with the new Calistoga AVA/Appellation designation."
August Briggs isn't known for any specific variety of wine. Rather, all of August Briggs' wines are superb and specifically created from quality Napa Valley and Sonoma grapes. From its Pinot Noirs to Cabernet Sauvignon, Petite Sirah and Chardonnay, each production is small, limited and fantastic.
For a truly special Napa Valley wine tasting experience, August Briggs is the tasting room to visit while in Calistoga. On any given day visitors can find any, or all, of the owners pouring wines and sharing their experiences. Not many wine tasting rooms can boast of having its owners pour wines directly for the public.
The August Briggs tasting room is open daily from 11 a.m. to 5 p.m., with extended seasonal hours until 7 p.m. on Fridays and Saturdays.
For more information about the summer wine releases or any of August Briggs Winery's products and services, call 707-942-4912, view the winery on the Web at http://www.augustbriggswines.com or visit 1307 Lincoln Ave. in Calistoga.
About August Briggs Winery
August Briggs winery is an employee-owned winery located in Napa Valley. Working with local growers in Napa Valley and Sonoma, August Briggs creates unique vintages of great tasting wines. August Briggs also operates a tasting room in downtown Calistoga.