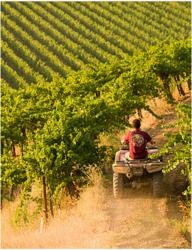 A visit to our vineyard will prove to be both memorable and educational
Rutherford, CA (PRWEB) December 14, 2011
Napa's St. Supery Estate invites guests to experience world-class Napa Valley winemaking from the vineyard to the cellar. The tour starts in the vineyard to experience the seasonal farming activities and discuss the current growing cycle. Each tour includes wine tasting in the cellar from tank or barrel and a guided tasting of finished wines in one of St. Supery's private tasting rooms.
Guests experience first-hand what it takes to create a bottle of Napa Valley estate Cabernet Sauvignon.
The cost for the hour and a half tour is $50 per person and space is limited so guests should reserve their spot in advance by calling the winery 800-231-9116.
St. Supery is one of the most popular wineries in the famed Napa Valley. A visit to St. Supery Estate is sure to be a fun, educational and enlightening wine tasting experience.
"A visit to our vineyard will prove to be both memorable and educational. We strive to do make the educational component of our tours engaging and informative for both novice and seasoned wine enthusiasts alike," says Chris Parker of St. Supery Estate Vineyards & Winery.
For more information about St. Supery Estate Vineyards & Winery, please visit their website http://www.stsupery.com or call them at 707-963-4507, Ext 13. They are located at 8440 St. Helena Hwy Rutherford CA 94573.
About St. Supery Estate Vineyard & Winery
St. Supery is a family-owned estate winery in the heart of Napa Valley, recognized for outstanding Sauvignon Blanc, Cabernet Sauvignon and Elu & Virtu blends. The winery's vineyards are sustainably farmed and Certified Napa Green. St. Supery wines are enjoyed by people around the world in fine restaurants and during celebrations at home. They offer a wine club with the best Sauvignon Blanc available, along with a deep selection of library Cabernet Sauvignon.
###