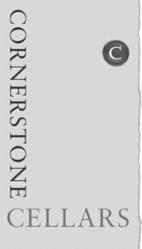 It's been a breakout year for Janet, who is a rising star in the West Coast art scene
Yountville, CA (PRWEB) April 07, 2012
Napa Wine tasting room, Cornerstone Cellars, a premium producer of award-winning Napa Valley wines, is excited to present artist Janet Ekholm's special exhibition of dramatic paintings at Cornerstone's Yountville tasting room gallery as the featured artist during Napa Valley's "Arts in April." Ten of Ekholm's latest works will be on display from April 1 to April 30, with Ekholm in residence from April 17 to April 22. During the exhibit's opening hours, a complimentary wine tasting will be available for all "Arts in April" visitors.
"It's been a breakout year for Janet, who is a rising star in the West Coast art scene," Allison Zickfeld of Cornerstone Cellars said. "During the artist in residence period, Janet will be working live on a new painting and will be available for personal tours of the exhibition."
The "Arts in April" exhibition of Janet Ekholm will be open from 10 a.m. until 6 p.m. during April. Ekholm will be available on April 17, April 19 and April 20 from 3 p.m. to 6 p.m.
"On April 21 and April 22, the art of painting, music and wine will intertwine as Janet Ekholm is joined by Pacific Chamber Orchestra bassoonist Karla Ekholm," Zickfeld said.
For more information about artist Janet Ekholm, visit http://www.janetekholm.com.
For more information about the "Arts in April" display or any of Cornerstone Cellars' products or services, call 707-948-6295 or 707-945-0388, view the tasting room on the web at http://www.cornerstonecellars.com, or visit 6505 Washington St. in Yountville.
About Cornerstone Cellars
Cornerstone Cellars is recognized as a quality leader in super-premium Napa Valley, and now Willamette Valley, wines. From the first vintage, Cornerstone has received consistently high ratings from The Wine Spectator, The Wine Enthusiast and Robert Parker. Cornerstone Cellars was rated one of eight "World Class" Cabernet producers in The Connoisseurs' Handbook of the Wines of California and the Pacific Northwest, Fourth Edition. Cornerstone Cellars has one goal: to make compelling, exciting wines that speak clearly of the vineyard, variety and vintage from which they are born. All the wines receive minimal, gentle winemaking that relies more on nature than technology, and come from organic or sustainably farmed vineyards.