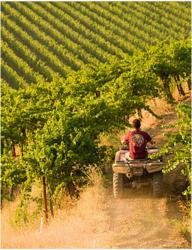 Our goal was to create small, intimate spaces to best showcase the estate wines
Rutherford, CA (PRWEB) August 07, 2012
St. Supéry Estate Vineyards & Winery is excited to announce the opening of its newly renovated tasting rooms and art gallery in Rutherford. St. Supéry Estate Vineyards & Winery is known throughout Napa Valley for offering its benchmark best Sauvignon Blanc, Cabernet Sauvignon and other Bordeaux varietals.
"Our goal was to create small, intimate spaces to best showcase the estate wines," St. Supéry Estate's CEO, Emma Swain, said. "St. Supéry Estate has always valued wine education and we believe the most important part of wine education is discovering your own palate in a meaningful way that allows you to better communicate your tastes and have more consistency with your wine purchases. Our renovated winery creates an environment that facilitates this level of wine education."
In order to offer personalized tasting and learning experiences, St. Supéry Estate remodeled the winery to suit a variety of different wine consumers. The downstairs Estate Room has a long bar, casual seating areas and outdoor patio adjacent to the pétanque courts and is built for lively, fun wine tastings in a social environment. For those seeking a more intimate wine experience, there is the Gallery Level that is home to a private wine cellar, private tasting rooms and seated tasting experiences designed for smaller groups.
St. Supéry Estate continues to champion wine education with a refined Vineyard to Glass tour, daily wine tastings, and a new series of Interactive Wine Classes developed to encourage guests to engage with the wine in a multi-sensory manner. The newly developed Interactive Wine Classes are for guests with varying levels of wine education, from the introductory class - Pleasure in the Glass, to the more advanced class - Five Bordeaux Varietals and the Five Senses. These classes are offered throughout the week to allow guests a variety of unique daily experiences at St. Supéry Estate.
St. Supéry Estate also continues to offer world-class art gallery exhibitions in their newly renovated art gallery. Exhibitions rotate twice yearly and are designed and installed by the Paul Thiebaud Gallery in San Francisco. St. Supéry Estate currently features Bay Area artist Grace Munakata's work as the debut exhibition in the new space. Munakata's work, showing for the first time ever in Napa Valley, is available to the public daily at no charge from 10 a.m. to 5 p.m. through November.
For more information, please call 707-963-4533, go to http://www.stsupery.com or visit them at 8440 St. Helena Hwy in Rutherford.
About St Supéry Estate Vineyards & Winery
Step into St. Supéry's family-owned winery in the heart of Napa Valley and experience the best of wine country. Surrounded by an estate vineyard, St. Supéry is recognized for its Bordeaux varietals and blends. Visit the vineyard to enjoy delicious wine tastings, learn about its wine club, experience a birds-eye view of a working winery or stroll through its fine art gallery. St. Supéry Estate Vineyards and Winery is open daily from 10 a.m. to 5 p.m., except on a few major holidays.