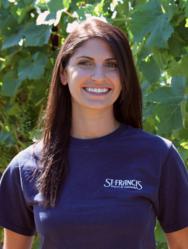 We've had a very important changing of the guard here at St. Francis
Santa Rosa, CA (PRWEB) January 20, 2012
Sonoma wine tasting venue, St. Francis Winery & Vineyards, a pioneer of ultra-premium Sonoma County winemaking, having recently announced the retirement of winemakers Tom Mackey and Dennis Borell, is pleased to introduce Katie Madigan as its new Sonoma County Winemaker.
"We've had a very important changing of the guard here at St. Francis," Winery President and CEO Christopher Silva said. "This is the next generation of winemaking at St. Francis. Upon the retirement of Tom Mackey and Dennis Borell, we've put into place our young but incredibly talented all-female winemaking team to continue our legacy. As our Sonoma County Winemaker, Katie Madigan will work closely with our Artisan Winemaker Heather Munden as we continue to focus on 100 percent handpicked Sonoma County grapes in every St. Francis wine. It is all about quality and this is an exciting moment for St. Francis Winery. Indeed, we intend to use this moment."
Mackey had been with St. Francis since 1983, and after nearly 30 years of innovative work, he retired on Dec. 31. He helped the Winery find its distinct style and taste in winemaking. He introduced Cabernet Sauvignon and Zinfandel to the St. Francis selection and enhanced the winery's Chardonnay and Merlot programs, earning a number of awards throughout the years.
Madigan majored in Chemistry at UC Santa Barbara and first joined St. Francis as a harvest intern in 2002. In 2004, she became a full-time lab technician at St. Francis and furthered her knowledge of wines by studying Enology & Viticulture at UC Davis. She was promoted to Assistant Winemaker in 2006, concentrating on Chardonnay production and championing St. Francis' night-picking of its Chardonnay fruit to preserve its most delicate qualities. Madigan had been elevated to Associate Winemaker in 2010.
Mackey, who will remain active as a consultant, personally endorsed his successor. Together with Artisan Winemaker Heather Munden, Madigan will continue working in the vineyards, cellar, lab and barrel room to create, evaluate and finalize St. Francis' high-quality Sonoma County blends.
Former Joseph Phelps Winemaker Craig Williams will also work as a consultant with both Munden and Madigan on vineyard, cellar, and blending quality measures.
Guests are invited to visit St. Francis Winery & Vineyards and enjoy the taste of Sonoma's bold-flavored and fruit-forward wines, as well as the Winery's acclaimed daily wine and food pairings prepared by St. Francis Executive Chef David Bush.
For more information about winery tours and wedding venue at St. Francis Winery & Vineyards, call 888-675-WINE, find us on the web at http://www.stfranciswinery.com or visit us at 100 Pythian Road at Highway 12 in Santa Rosa.
About St. Francis Winery & Vineyards:
For over 35 years, St. Francis Winery in Sonoma has handcrafted fruit forward, luscious and full-bodied wines from superior mountain and valley vineyards in Sonoma County's best appellations. While most renowned for its red varietals, including its Zinfandel (all old vines 60 - 110 years old), Merlot and Cabernet Sauvignon, St. Francis also produces an extraordinary Chardonnay.
###