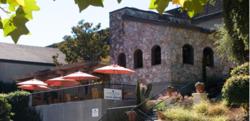 "We begin the love month with unique 'Truffles by Le Belge,' paired with a special selection Geyser Peak Wines
Geyserville, CA (PRWEB) February 01, 2012
Sonoma wine tasting venue, Geyser Peak Winery, one of California's oldest and most award-winning wineries, is excited to announce its upcoming events during the month of February.
"We begin the love month with unique 'Truffles by Le Belge,' paired with a special selection Geyser Peak Wines," said Lisa Flohr of Geyser Peak Winery. "This will be served in the Reserve Room, overlooking the barrel cellar."
Geyser Peak will host the event over two weekends, from Feb. 11 to 12 and Feb. 18 to 19, between the hours of 11 a.m. and 3 p.m. Admission is $20 per person and $10 per club member.
Another February event will feature Geyser Peak's first-ever Valentine's Day Crab Feast on Feb. 11 from 6 to 10 p.m. Feast on a fresh crab dinner catered by Bistro Boudin of San Francisco, while enjoying live music from "Open Hearts." Cost is $90 per person.
Featuring a long heritage of winemaking with a relatively recent resurgence, Geyser Peak Winery's roots in Sonoma County winemaking run deep. Augustus Quitzow, one of Sonoma County's pioneer winemakers, founded the winery in 1880; however, the original winery was built in Geyserville in 1882. Perched on a hillside across from Geyser Peak Mountain, the winery claimed a view of the clouds of thermal steam that billowed from the mountain's summit.
Today, Geyser Peak Winery combines traditional techniques with New World innovations. Geyser Peak wines are crafted from small lots that are fermented separately and then blended to achieve expressive wines of balance and character.
For more information about this Sonoma wedding venue and its wine tours or the February events and any of Geyser Peak Winery's products or services, call 707-857-2500, view the winery on the web at http://www.geyserpeakwinery.com or visit 12281 Chianti Road in Geyserville.
About Geyser Peak Winery
Geyser Peak Winery, one of California's oldest and most award-winning wineries, was founded in 1880. A pioneer of the Alexander Valley in Sonoma County, Geyser Peak Winery produces Chardonnay, Cabernet Sauvignon, Sauvignon Blanc, Reserve Chardonnay, Reserve Cabernet Sauvignon, Reserve Merlot, Reserve Shiraz, Port and Late Harvest Wine. It also features the Cellar Door Wine Club, which offers barrel tasting for club members and non-members as well.
###