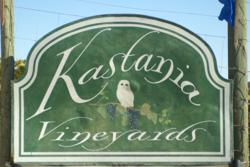 Petaluma, CA (PRWEB) April 18, 2012
Kastania Vineyard, known for providing the tastiest Pinot Noir in Sonoma, is celebrating Administrative Professionals Day on Wednesday, April 25 and is inviting local businesses and organizations to bring their valued employees to celebrate. The Sonoma boutique winery is offering private tours and wine tasting and will feature many of new products for April.
Employers can show their appreciation for their assistants wonderfully with many different wines. The 2008 Kastania Pinot Noir Estate Jaden & Keira's Cuvee has a pleasing nose of cranberry, raspberry and just a touch of oak and its fresh notes of Satsuma plum, ripe berry and cherry pie flavors showcased by the crisp acidity, subtle tannins and cinnamon spice. The 2007 Kastania Pinot Noir Estate Jaden & Keira's Cuvee liberally opens with a fresh cherry vanilla cream nose and just a touch of oak and its alluring notes of plum, Bing cherry and ripe berry flavors are gently enhanced by subtle tannins. The 2008 Kastania Proprietor's Blend has a bright jammy blackberry nose with hints of violets and dusty oak and its rich fruity vibrancy of black cherry and cassis are layered with subtle notes of licorice, cola and cedar. The 2008 Kastania Pinot Noir Estate Proprietor's Reserve exhibits a rich and creamy aroma of wild cherry, vanilla and nutmeg and focused intensity of flavors of Bing cherry, ripe plum and stone fruits that are delicately layered between subtle sweet oak and cedar notes.
A lovely picnic amidst the scents and sights of the vineyard would be a nice touch to a day full of appreciation, filling up on wine and delicious victuals while overlooking the sparkling Petaluma River as it winds its way to San Pablo Bay.
For more information, please call 707-763-6348 or visit them on the web at kastaniavineyards.com. Kastania Vineyards is located at 4415 Kastania Road in Petaluma.
About Kastania Vineyards
Kastania Vineyards is the home of award-winning wines in the beautiful Sonoma Coast Appellation. The vineyards create its wines in small lots from the premium estate grown grapes. The Burgundy and Bordeaux varieties are influenced by the vineyard's distinct terroir and the maritime impact. Kastania's passion is to produce high quality wines.