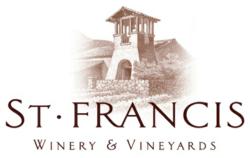 Great movies and elegant wines transport us to another place and time...all the more so under the sky and the stars on a summer night in Sonoma
Santa Rosa, CA (PRWEB) July 10, 2012
Pioneer of Sonoma County winemaking St. Francis Winery launches its third annual wine paired outdoor film festival this week. Curated by celebrity sommelier and film aficionado Christopher Sawyer, the festival kicks-off July 12, featuring classic films alongside wine tastings of St. Francis' signature, award-winning wines.
Mel Brook's classic comedy "Blazing Saddles" opens the summer festival on July 12. The evening will commence with a pre-show concert performance by "Jay Blue," followed by an independent short film selection from The San Francisco 48 Hour Film Project. On July 19, Alfred Hitchcock's "Rear Window" will be featured, with a pre-show concert performance by "Phil Berkowitz and The Dirty Cats." The 1986 blockbuster "Top Gun," starring Tom Cruise, will be featured July 26 after a rockin' performance by 80's cover band "Band Camp."
On Aug. 2, "Mamma Mia"—starring Meryl Streep, Pierce Brosnan and Colin Firth—will be shown, with "The Cork Pullers" providing the pre-show entertainment. On Aug. 9, jazz fusion musicians "Tumbao" perform, and Bill Murray and Andie MacDowell provide the laughs as "Groundhog Day" graces the 30-foot outdoor screen. The festival's Aug. 16 finale will feature 1999 Academy Award winner "American Beauty," starring Kevin Spacey and Annette Bening. The film's masterful combination of dark humor and psychological drama earned the movie five Academy Awards, including Best Picture. National recording artist "Nat Keefe of Hot Buttered Rum" will perform prior to the film.
Seating on the lawn begins at 7 p.m. with a pre-show concert and wine reception, followed by an independent short film selection from The San Francisco 48 Hour Film Project. Feature films begin at dusk. Guests are welcome to bring low-backed lawn chairs, blankets and a picnic. However, alcohol brought from offsite is strictly prohibited. Sawyer will host a short discussion of the evening's film and wine pairing immediately after an introduction from St. Francis Winery CEO and president Christopher Silva.
"Great movies and elegant wines transport us to another place and time...all the more so under the sky and the stars on a summer night in Sonoma," Silva said.
There is no charge for attending and the popcorn is free! Wine by the glass, food and sweets will be available for purchase.
Schedule of St. Francis' "Stars Under the Stars" outdoor film festival:
July 12
Blazing Saddles
Pre-show concert by Jay Blue
July 19
Rear Window
Pre-show concert by Phil Berkowitz & The Dirty Cats
July 26
Top Gun
Pre-show concert by Band Camp
Aug. 2
Mamma Mia!
Pre-show concert by The Cork Pullers
Aug. 9
Groundhog Day
Pre-show concert by Tumbao
Aug. 16
American Beauty
Pre-show concert by Nat Keefe of Hot Buttered Rum
About St. Francis Winery & Vineyards
For more than 35 years, St. Francis Winery in Sonoma has hand-crafted fruit forward, luscious and full-bodied wines from superior mountain and valley vineyards in Sonoma County's best appellations. While most renowned for its red varietals, including its zinfandel (all old vines 60 to 110 years old), merlot and cabernet sauvignon, St. Francis also produces a noteworthy chardonnay. St. Francis Sonoma County wines are bursting with flavor and are recognized globally for outstanding quality and great value. St. Francis Winery offers winery tours and serves as a perfect wedding venue.
About Christopher Sawyer
An internationally renowned sommelier, wine journalist, consultant, critic and public speaker, Christopher Sawyer travels the world following trends in wine and participating as a judge in international wine competitions. Sawyer earned the 2009 "Best Sommelier in Sonoma County" by "The Wine Tasting Panel Magazine," and is the recipient of many prestigious awards and industry honors. As the world's first and only film festival sommelier, Sawyer conceived and curated the wine experience throughout the Sonoma Valley Film Festival, including creatively pairing wine and food with films throughout the festival and at celebrity tributes. Sawyer is currently sommelier-in-residence at the Carneros Bistro & Wine Bar at The Lodge at Sonoma Renaissance Resort and Spa, where his wine list has received numerous awards.