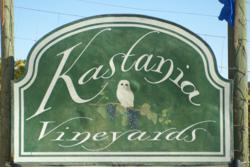 We're really busy now getting ready to bottle our 2011 Pinot Noirs and 2010 Bordeaux Blends
Petaluma, CA (PRWEB) August 02, 2012
Kastania Vineyards, the home of award-winning wines in the beautiful Sonoma Coast Appellation, is proud to announce that it is now preparing to bottle its 2011 Pinot Noir and 2010 Bordeaux Blend. Both vintages will add to the boutique vineyard's wide selection of quality wines.
"We're really busy now getting ready to bottle our 2011 Pinot Noirs and 2010 Bordeaux Blends," Hoot Smith of Kastania Vineyards said.
Kastania Vineyards' collection has won a variety of awards for exceptional flavor and taste. Made with the right fermentation and monitored daily for brix and temperature until dry, the quality of its wines, especially its pinot noirs, has been recognized year after year.
"At Kastania Vineyards, we have maintained our excellence by refusing to do things any way but our own. Experience the taste of a family tradition. Come to Kastania Vineyards for your next Sonoma wine tasting experience," Smith said.
The Sonoma boutique winery recently released its 2009 Kastania Proprietor's Blend, 2009 Kastania Pinot Noir Estate Proprietor's Reserve, 2009 Kastania Pinot Noir Estate Jaden & Keira's Cuvee, 2008 Kastania Pinot Noir Estate Jaden & Keira's Cuvee, and 2008 Kastania Pinot Noir Estate Proprietor's Reserve in July.
For more information about any of Kastania Vineyards' products or to make a wine tasting appointment, call 707-763-6348, view the vineyard on the Web at http://www.kastaniavineyards.com or visit 4415 Kastania Road in Petaluma.
About Kastania Vineyards
Kastania Vineyards currently produces between 800 and 1,000 cases of award-winning Sonoma County wines each year. Its current selections include the Estate Grown Sonoma Coast Pinot Noir, and the Sonoma Coast Bordeaux Blend of Estate Grown Cabernet Franc and Cabernet Sauvignon. Its wines are sold primarily through the wine tasting room, which is open by appointment Monday through Friday and from 11 a.m. to 4 p.m. on Saturdays and Sundays.