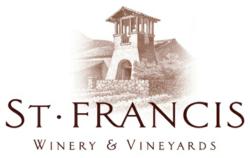 This event honors the winery's namesake, St. Francis of Assisi, the patron saint of animals and ecology, whose feast day is Oct. 4
Santa Rosa, CA (PRWEB) September 20, 2012
More than 200 pet owners and their animals are expected to gather at St. Francis Winery & Vineyards, a Sonoma winery, for its 12th Annual Blessing of the Animals on Oct. 7 from 2 to 5 p.m. All animals, ranging from dogs and cats to birds and hamsters are welcome.
"This event honors the winery's namesake, St. Francis of Assisi, the patron saint of animals and ecology, whose feast day is Oct. 4," Aura Bland of St. Francis Winery & Vineyards said.
The winery is in its 12th year hosting this fun-filled afternoon, which raises funds for the Sonoma Humane Society via a charity raffle. The raffle sponsors include Charlie Palmer's Dry Creek Kitchen in Healdsburg and dog-friendly accommodations like Olea Hotel in Glen Ellen, Camellia Inn in Healdsburg and the Garden Court Hotel in Palo Alto. The event is free and open to the public.
Attendance at this event has grown steadily over the years, with more than 200 local pet owners and their beloved animals present in 2011. Festivities include animal blessings by Father Patrick Leslie of Star of the Valley Church in Santa Rosa and the popular "Winery Dog of the Year" contest. The winning dog will be featured on the winery's website and Facebook page. Blessings begin at 2 p.m., followed by the "Winery Dog of the Year" contest.
Animal vendors and exhibitors will also be on hand. The Sonoma Humane Society is bringing adoptable pets, and Lyon Ranch--an animal rescue and animal-assisted therapy organization in Sonoma--is bringing two of its exotic animals: a baby alligator and a baby fox.
For more information about any of St. Francis Winery & Vineyards' products or services, call 855-262-6303 or view the winery on the Web at http://www.stfranciswinery.com. St. Francis Winery & Vineyards is located at 100 Pythian Road in Santa Rosa.
About St. Francis Winery & Vineyards
For more than 35 years, St. Francis Winery in Sonoma has handcrafted fruit-forward, luscious and full-bodied wines from superior mountain and valley vineyards in Sonoma County's best appellations. While most renowned for its red varietals, including its zinfandel (all old vines 60 - 110 years old), merlot and cabernet sauvignon, St. Francis also produces a noteworthy chardonnay. St. Francis Sonoma County wines are bursting with flavor and are recognized globally for outstanding quality and great value. St. Francis Winery offers winery tours and wine tastings, and serves as a perfect wedding venue.