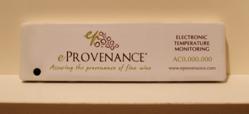 "The potential to connect with our consumers and to safeguard their wine is tremendous." David Pearson of Opus One.
Boston, Massachusetts (PRWEB) December 06, 2011
eProvenance, a Franco-American company applying advanced technology to monitor the temperature and provenance of wines as they travel from wine producer to customer, has developed new sensors that are compatible with the Near Field Communication (NFC) protocol and can be read through wooden cases of wine. Using the NFC protocol, which makes it easy to communicate data via smartphones (like the Google Nexus S), the new eProvenance 2G (second generation) sensors can transfer the temperature history for the case of wine through a reader or smartphone to the secure eProvenance online database. Using their NFC mobile phones, consumers will be able to access the eProvenance temperature history, and thus verify the provenance of the wines they purchase.
With a 15-year battery life, the new eProvenance 2G sensors can be embedded in the wooden wine case to provide continuous, long-term temperature monitoring, which creates a record of provenance over time that adds to the value of the wine. eProvenance customers can choose either to convert the temperature data into a provenance rating or simply share the data, allowing the importer or customer to make their own judgment about the temperature conditions.
Presenting at WineFuture Hong Kong 2011, David Pearson of Opus One said, "Starting with our 2008 vintage, we have an NFC tag on each bottle under the back label, which connects consumers to a video of our winemaker. Now we envision adding an eProvenance sensor inside each case to monitor the temperature for 15 years, allowing consumers with an NFC phone to read the entire temperature history with one click. The potential to connect with our consumers and to safeguard their wine is tremendous."
On December 1, 2011, eProvenance and Near Field Solutions, our development partner, received two awards for our new NFC-compatible 2G sensor at WIMA NFC USA 2011 in San Francisco: the "Audience Award," voted for by all attendees and a Silver Award in the Best Application Contest. Entries for Best Application were presented in front of an international jury of industry experts and WIMA NFC USA attendees and were judged on the business viability, innovation and potential user experience of their NFC application.
"eProvenance customers are looking for ways to connect with their customers via social media. Our technology opens up the potential for a higher level of consumer connection and brand interaction," commented Eric E. Vogt, eProvenance founder and CEO. "Making this provenance data available will motivate importers to verify quality conditions, give retailers more information to share at point of sale, and lead consumers to check the quality of what they are buying," concluded Vogt.
The first-generation eProvenance sensors continue to be a cost-effective way to monitor shipments at the case or pallet level, providing cold chain verification to wineries, shippers and suppliers. Handheld, WiFi-enabled RFID readers can access data at any point in the global journey of a case of wine, allowing importers and retailers to confirm the quality and integrity of their shipments and assure their customers of proper transport and storage conditions during each voyage segment from winery to retail shelf or consumer cellar.
Founded in January 2007 by Eric Vogt to assure the provenance of every bottle of fine wine, the company is working with leading Bordeaux négociants and châteaux, estates in Burgundy, wineries in Napa-Sonoma, California, importers in Hong Kong and top wine merchants in London. eProvenance has offices in the USA and in Bordeaux and Paris, France. Established in December 2008, eProvenance France is headed up by Bertrand Dechery. Second-generation sensor technology was partially funded by OSEO, the French agency sponsoring innovation in the EU. eProvenance has a US patent for its technology and has patents pending Europe and elsewhere.
Find us on Facebook and follow us on twitter @ eprovenance.
###